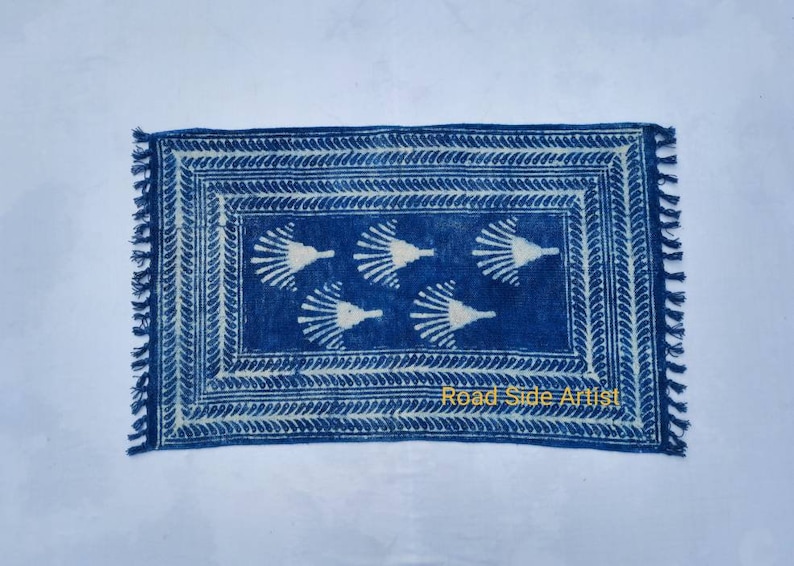 Price: $25.00USD
This Rug is Handmade ( handblock printed)
The natural dye is applied to wooden blocks and pressed into the rug, then the rug is stone washed to give it an antique look.
Natural dyes are better, simply because they do not contain chemicals harmful to health.
Easy To Clean And Wash These Rugs.
This Rugs will look great in your home,
living room, dining room, kids room, bedroom, or any other living space. Moreover, this rug goes well in low to medium traffic areas of your home. Awesome combination of colors and designs will enhance the beauty of your house. Ideal for the colder seasons, this bed side rug will create a warm environment in Your Bedroom.
Material – 100% Cotton
Size – 2'X3' Feet / 24*36 inches / 60*90 Cm
Colour – Indigo Blue and White.
Note – If you don't want tassels or Fringes,you can tell us, we can remove them for you.
Wash Care – Machine washable / dry clean (do not machine dry)
Can also wash by hand.
● After Order Placed Provide me Contact Details for delivery, Shipping Time Necessary Contact Number.
CUSTOM AND PERSONALISED
Have us make something just for you! Whether you have set your mind on a design or you have no idea: measure your space and write to us. We make for you according to your exquisite taste.
If you like this Pattern But size is not better, Write us
We make for you Same with Your size and Colour.