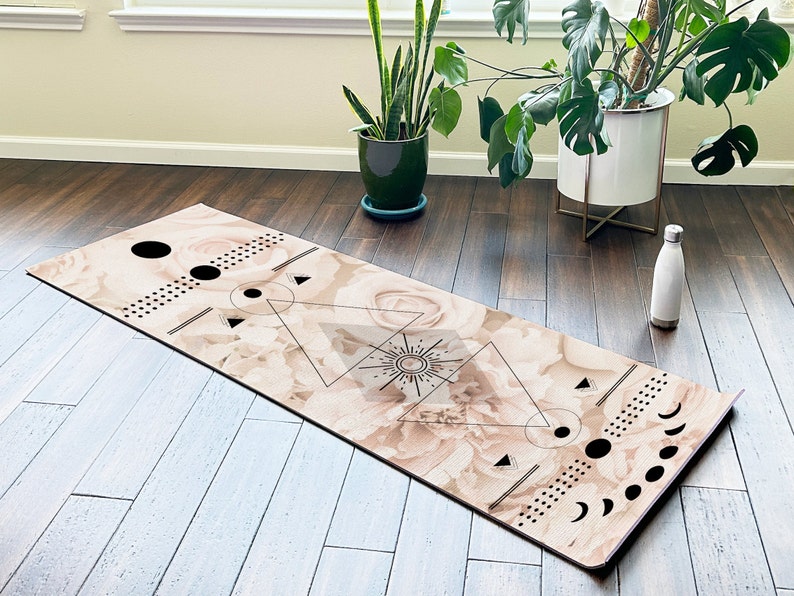 Price: $44.99USD
Practice with comfort and confidence. Our Alignment Yoga Mat is not just a mat, but a guide for your yoga journey. Engineered with our bodies in mind, it features subtle design cues to assist you in positioning and aligning your body correctly. This unique attribute ensures you achieve the right form for each pose, optimizing the benefits from your yoga session.
Deepen the mindfulness aspect of your practice. Paired with our Alignment Yoga Mat is a beautifully designed matching towel. Made from ultra-absorbent and soft material, this towel effortlessly soaks up excess moisture during those intense yoga sessions. It is lightweight, quick-drying, and compact, making it an ideal companion for your mat.
Mindful Motion Studio's Alignment Yoga Mat with Matching Towel Set is more than just a yoga accessory or gorgeous room decor. It's a tool for growth, a partner in mindfulness, and a medium that connects your body, mind, and soul. Experience the difference of Mindful Motion with us. Let's align on this journey together
Yoga Mat Details:
◘ 24″ x 72″ (61cm x 183 cm)
◘ 0.25″ (0.65cm) thick
◘ Material: 100% foam (synthetic thermoplastic)
◘ Unique alignment designs guide your body into perfect form.
◘ Add a matching towel for intense sessions
◘ A tool for growth and Mindful Motion.
Yoga Towel Details:
◘ 50% Polyester, 50% Cotton
◘ White cotton loop backing for soaking excess moisture
◘ Hygienic barrier between body and mat
◘ Extra cushioning for a comfortable session
◘ Mindful Mantras