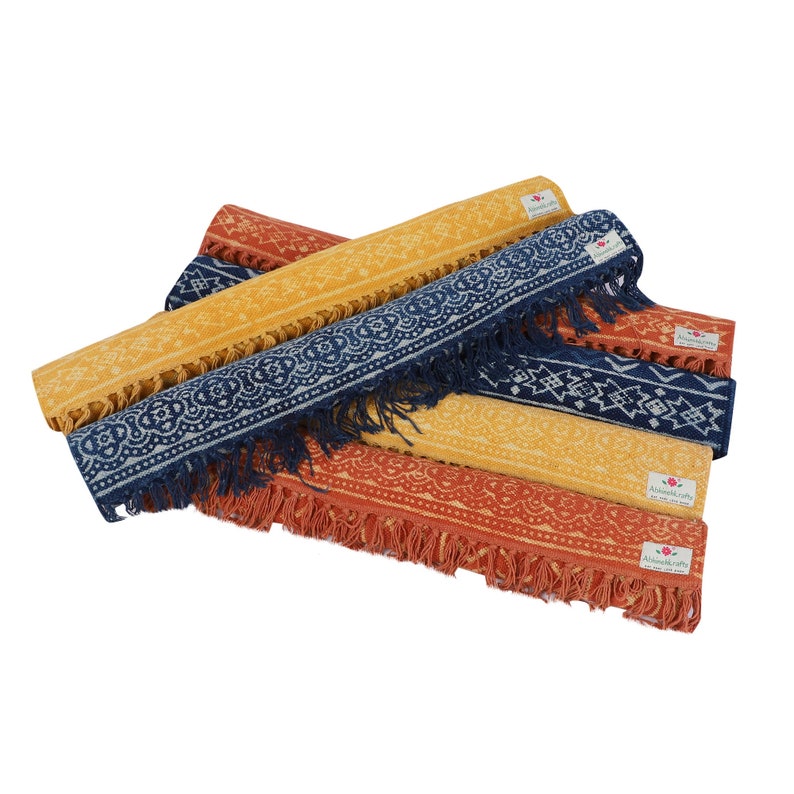 Price: $70.00USD
Our most beloved antiskid handblock printed and handwoven cotton yoga mats are now available in more pretty natural shades.
Introduction: These Yoga mats are handwoven using natural fiber i.e., cotton. These mats double up as floor rug, area rug, runner, 'dhurrie', area mat. They can be easily washed and last much longer than plastic or silicone mats. They get softer with use and are still sturdy. The block printed geometric patterns are unique and have been hand printed to create this handmade beauty. Use these rugs during the meditation sessions or use them in combination with our Yoga blankets to create a comfortable experience. These rugs can brighten up any space with their charm. Easily washable and Easy to Maintain. Use the anti skid backing for an experience like no other.
KEY FEATURES:
*Cotton Mats for Yoga, Meditation, or general fitness routine. Available in dyes – Indian Indigo, Indian Mustard, and Indian Rust
These yoga mats are anti slip/anti skid/ non-slip/non-skid/, basically slip free, all thanks to the anti skid felt backing in them. Now no more sliding on a hard surface while you practice (choose this option at the time of check out). Please read the entire description before making a purchase.
Our Recommendation: You want to use the mat on a carpet, your existing rug, or your existing PVC or rubber mat – Choose a non skid normal version
You want to use the mat on a hard floor and for more support: Use the anti skid felt back option
Want to practice on both Grass, hard surface, rug – Choose the anti skid version!
Dimensions : 75 x 24 (Inches), Thickness – 6 mm
Abhinehkrafts mats are adaptable and works well for most styles of yoga : Hatha, Vinyasa, Iyengar, Ashtanga, Bikram, Hot Yoga, Kundalini, Yin, Prenatal, Restorative, Anusara and Vini-yoga. Even for normal fitness routines, or meditation sessions, we can recommend our mats. Cotton is a natural biodegradable material unlike microfiber which most yoga towels are made of. The washing of microfiber has been linked to the cause of massive plastic pollution to our oceans, air and drinking water. Therefore, when you do Yoga or meditation, you can feel the work of natural fibers and real craftsmen ship.
These mats can be used for both indoor and outdoor practices. They weigh only 1.1 Kilograms and can be easily rolled and carried.
Please note there may be variations (e.g., slightly light or grey shade) in the shades of the colors as all these mats are hand dyed and also due to the light and ambient conditions during the photoshoot. Also, please note Indigo is a natural dye so you may find that the shade of the mat is varying at different places due to the loss of Indigo color naturally specially at the folds. Please construe these as part of the handmade and manual process and not an imperfection and consider this judiciously before making a purchase.
About the anti-skid backing : Small rubber dots embedded on a felt fabric layer roll have been embedded with the woven cotton layer
At the time of check out – you have an option to choose a mat with no anti skid backing or a mat with anti skid backing felt layer. The no backing mat is only suitable to used at a carpeted area or as a decor mat/runner. If you intend to use this mat for exercise/yoga, we recommend using the anti skid backing as it will help your mat stay stable at a hard surface.
If you see a mat of your choice available as "no anti skid back" option but want an anti skid option – just send us a message and we can convert the no anti skid mat to anti skid back mat for you as a custom order.
Comes with a complimentary free cotton yoga bag/carrier of its own.
We recommend using our mats with our handwoven organic cotton blankets ( also available at our shop) for an additional comfort during practice.
These mats make a perfect gift for a 'Yogi' in your life too – A Yoga gift box is available in our gifts section on the Etsy store.
Wash care: Hand wash, Indigo is a natural dye and is prone to bleeding colors while washing, so always wash separately.
Made with Love & Care in India by Abhinehkrafts
Note: Indigo, Madder, Myroblan, Himalayan Rhubard, Catechu among others being natural dyes – they tend to leave colors during wash. Always treat the mats first with salted cold water and shade dry for longevity. Please prefer a hand-wash always. Also, cotton mats do shrink upon washing for the first time as is the nature of a cotton fiber.
To see more of our work and other lovely products, visit our
Etsy Shop: https://www.etsy.com/shop/Abhinehkrafts
or our website www.abhinehkrafts.com