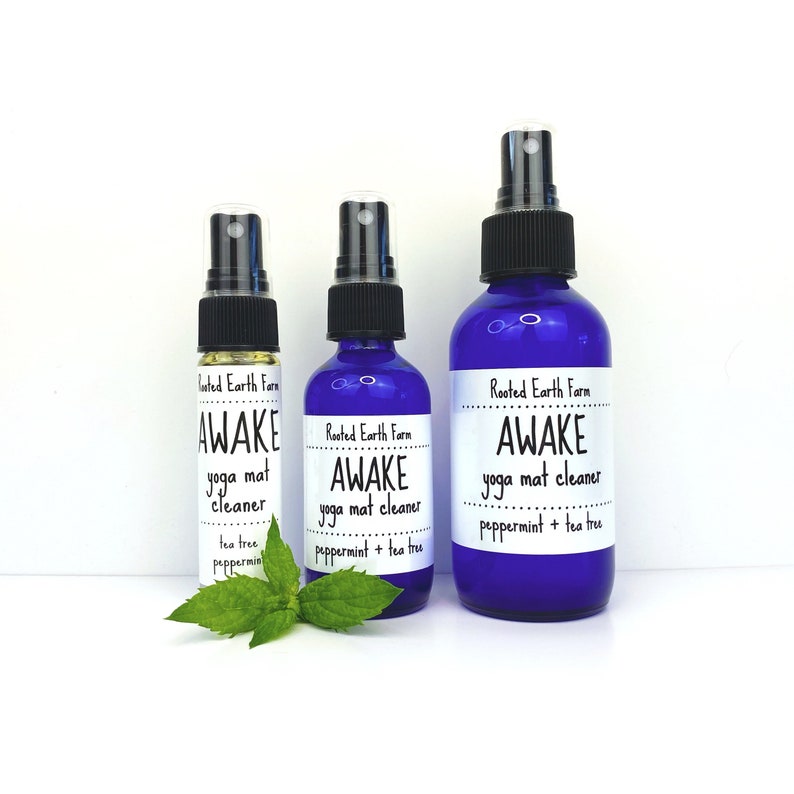 Price: $8.99USD
The perfect yoga mat spray when you work out in the morning! It helps wake you up and lift your mood. Just spray it on your mat and wipe dry. Not only does it clean, but it has essential oils for aromatherapy benefits to awaken & focus your mind during your practice.
A mix of peppermint & tea tree smell amazing, clean your mat, and help you get ready for the day. It's all natural, made from pure essential oils, so no breathing in those yucky chemical fumes from the commercial mat sprays.
Comes in a 2 or 4 oz glass cobalt blue spray bottle, perfect to bring to class or for use at home. Or a 1 oz in a plastic spray bottle, perfect for on the go! (*please note, the 1 oz bottle may be clear or cobalt blue, due to shortages on bottles right now, it will depend on what we have available)
Ingredients: Water, Witch Hazel (contains: alcohol + wild New England witch hazel), Essential Oils of: Peppermint & Tea Tree
I have two other yoga mat cleaner scents available, Liquid Sunshine and Zen! See my other listings.
I have been studying herbs and creating herbal apothecary items for over 21 years. I create everything with loving intention and healing energy.
I use the finest ingredients I can find for my body care products. Organic and local as much as possible. A lot of the herbs are grown and/or wild crafted from right here on our sustainable farm. I only use herbs and essential oils to add fragrance – no chemical fragrance oils.
All body care and apothecary products are created in small batches by hand (by me!).
Descriptions and information are for informational purposes only and are not intended to diagnose, cure, treat, or prevent any disease or illness. All pregnant women must talk to their doctors before using anything containing essential oils.