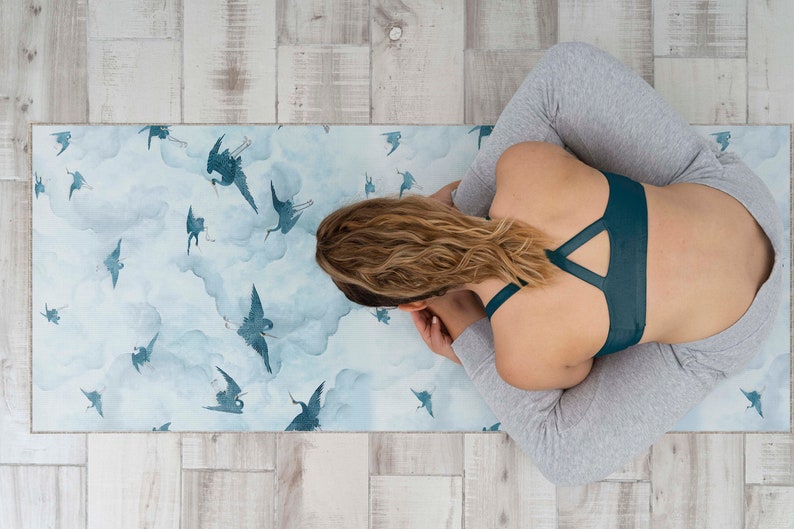 Price: $20.98USD
yoga mat, yoga mat bag, yoga mat strap, custom yoga mat, personalized yoga mat, cat yoga mat,round yoga mat, yoga mat storage, yoga mat holder, yoga mat shelf, large yoga mat bag, thick yoga mat, outdoor yoga mat, yoga mat bag indian, yoga mat towel, yoga mat cleaner, extra large yoga mat bag, yoga mat gift set,tinch thick yoga mat bag, cork yoga mat, manly yoga mat, yoga mat sticker, handwoven yoga mat, yoga mat stand White, green cotton yoga mat, succulent yoga mat, charizard yoga mat, vertical yoga mat storage, kids yoga mat, yoga mat spray, hemp yoga mat, yoga mat personalized, hot yoga mat, wool yoga mat, customized yoga mat, yoga mat custom, yoga mat decal
Blue Yoga Mat, Cloud and Birds, Yoga Mat, Pilates Mat, Meditation Mat, Buda Mat, Soft Yoga Mat, Fitnes Yoga Mat, Yoga and Pilates, Exercise
OEKO-TEX® | STANDARD 100 Standards, Has MSDS Report.
📐 Size and ⚖️ Weight
1- 23.6×59 inches / 60×150 cm (±3) 0.81 grams
2- 23.6×71 inches / 60×180 cm (±3 0.97 grams
3- 23.6×79 inches / 60×200 cm (±3) 1000 grams
4- 31.5×59 inches / 80×150 cm (±3) 1000 grams
5- 31.5×71 inches / 80×180 cm (±3) 1300 grams
6- 31.5×79 inches / 80×200 cm (±3) 1400 grams
Material: Chenille Prayer Mat, Acrylic, OEKO-TEX® , Cutton Prayer Mat,
Does it matter how we find our Inner Peace? You can choose the Mat you want for peace, health and happiness. Prayer Mat if you want, Yoga Mat if you want… We're all human aren't we?
Attention please.
Your Yoga Mat can be Personalized Now all of our Yoga Mats can be personalised! Please let us know the names, words, wishes and dates that you want us to embroidery on prayer mats. This is optional, you can either choose to get WITH/WITHOUT personalisation.
Condition: Excellent. Professionally washed and ready for use.
It was produced with first class workmanship in Turkey for use all over the World and on Mars (when a colony was established on Mars). (Oeko-Tex / ISO Certified materials.)
Please For fast delivery do not forget to share your cell phone number at check out.
Note: Accessories other than Yoga Mat are not included in the price.
Payment: Etsy Payments
Shipping: I will ship in the same day with DHL, FedEx or Usp Express which will deliver in 3 days to your address.
About 3d Printed Yoga Mat with special embroidery
It is carefully woven from luxury chenille yarns on hand looms.
You can personalize your Yoga rug. I can write your name, loved ones' name, your child's name, your spouse's name, etc.
It is hygienic. It is an antibacterial.
It differs from similar ones with its weaving density..
It brings a quality and modern look to your home with its 100% certified fabric produced from quality yarns on the upper part. Thanks to its non-staining fabric, whatever is poured on it, it takes its first day after washing. The Yoga rug, which is the choice of families, is a completely healthy product with its machine washable feature. It is suitable for long-term use with its quality fabric that does not wear out easily.
You can contact us for the model and size you want. Do not forget to check out my Etsy store for quality products, fast delivery and personalized designs.
Care Instruction:
Can be washed with a washing machine 30 ° without spinning. It does not contain any harmful substances to nature and human health. Does not contain carcinogenic substances. Does not dusting, does not leave fluff. It can be used in 4 seasons. It is anti-bacterial. It is anti allergic. Has Heat Insulation Feature. It is dust and stain resistant. Easy to Clean. It is not ironed.
CONTACT: You can always write to me on any subject.
Customer Feedback: I welcome your feedback. Please provide me the opportunity to address any concerns you may have before leaving any neutral or negative reviews. Given the opportunity, I am confident that I can resolve any issue to your complete satisfaction.
yoga mat, yoga mat bag, yoga mat strap, custom yoga mat, personalized yoga mat, cat yoga mat,round yoga mat, yoga mat storage, yoga mat holder, yoga mat shelf, large yoga mat bag, thick yoga mat, outdoor yoga mat, yoga mat bag indian, yoga mat towel, yoga mat cleaner, extra large yoga mat bag, yoga mat gift set,tinch thick yoga mat bag, cork yoga mat, manly yoga mat, yoga mat sticker, handwoven yoga mat, yoga mat stand White, green cotton yoga mat, succulent yoga mat, charizard yoga mat, vertical yoga mat storage, kids yoga mat, yoga mat spray, hemp yoga mat, yoga mat personalized, hot yoga mat, wool yoga mat, customized yoga mat, yoga mat custom, yoga mat decal
Thank you for shopping from my shop.