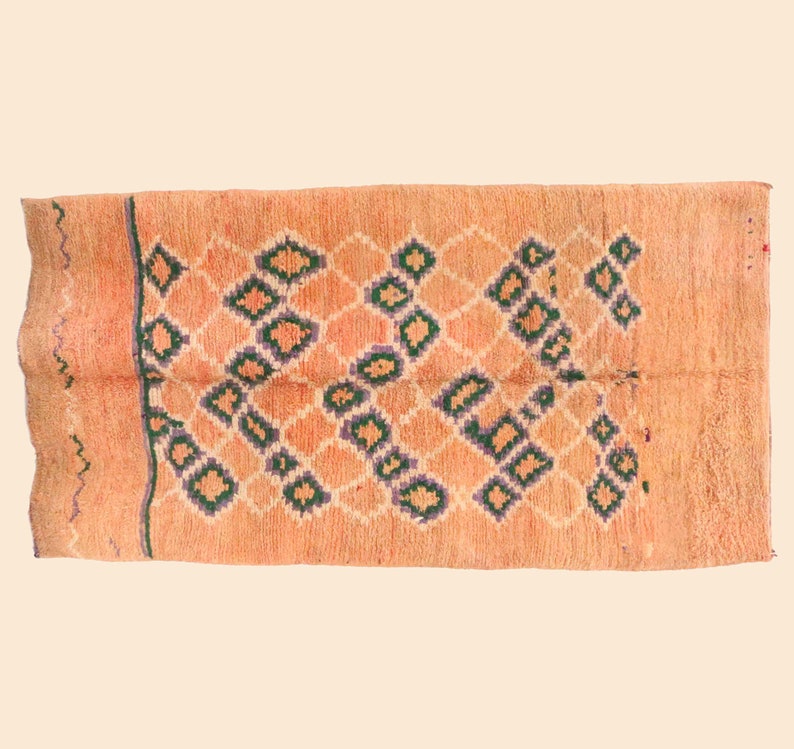 Price: $938.00USD
Boujad Berber Rug
Boujad rugs are handwoven pile rugs from a small region in Haouz between the Middle Atlas and the Atlantic ocean. The weaver has placed several rows of knots on and between several wefts and used colorful, bold hues with striking traditional symbols. This creates a unique catchy composition of amazing patterns, producing an unusually rich free form. Each one-of-a-kind piece tells a different story, making references to fertility, rural life, marriage, spiritual beliefs or life. The beauty of this rug is timeless and blends in every home decoration. The technics used in this weaving are absolutely excellent, beautifully decorated with many colorful symbols and vibrant details. Boujad rug will add balance and charm in any interior design style.
● Dimensions: (157 x 302 cm) – (5'2″ x 9'11″ feet)
● Weight: 9.2 Kg
● Region: Middle Atlas, Béni Mellal-Khénifra
● Style: Ethnic
● Colors: Pink / Peach, Neutral
● Material: Wool
● Age: Vintage
● Size: Large
● Design: Abstract
● Pile: Medium Pile
PLEASE NOTE: Take in consideration that you will acquire an authentic handmade product and not an industrial work made by machines. There may be slight imperfections in the shape or pattern as this is a vintage item, but all our rugs are professionally restored and cleaned by our team before to be shipped. All shipments destined outside of Morocco can import taxes and duty fees.
SHIPPING: We offer free worldwide shipping with DHL express 'door to door'. We need 2-3 days to restore and clean the rug. Once your item is shipped from Marrakech, it may take 5-6 business days to reach you, depending of course of your location. We try to make our best and work hard to get these beauties as soon as possible in your home. As soon as we ship it, you will get a confirmation email with your tracking number, so you can keep track of your order's location.
CARE INSTRUCTIONS: The rug should be shaken outside, at least once a week, until all dirt has been removed. If shaking the rug outside is impractical, it can be vacuumed, preferably with a hand held vacuum, slowly from side-to-side so as not to damage the fibres. Shaking and vacuuming on a regular basis should be sufficient to keep the rug clean during normal use.
CUSTOM ORDER: We make custom rugs based on your own choice for the design, size and colors. It takes generally 4-5 weeks to the weavers to produce your newly made rug.
WHOLESALE: From 3 rugs or more, we offer on all our products wholesale prices (including poufs, blankets and pillows). Please send us a message to get our wholesale prices with the shipping cost based on the final weight of your order.
Check out all our collection: https://www.etsy.com/shop/surcoma
Thank you so much for visiting our shop of unique Moroccan rugs. If you have any other specific requirements, do not hesitate to contact us!