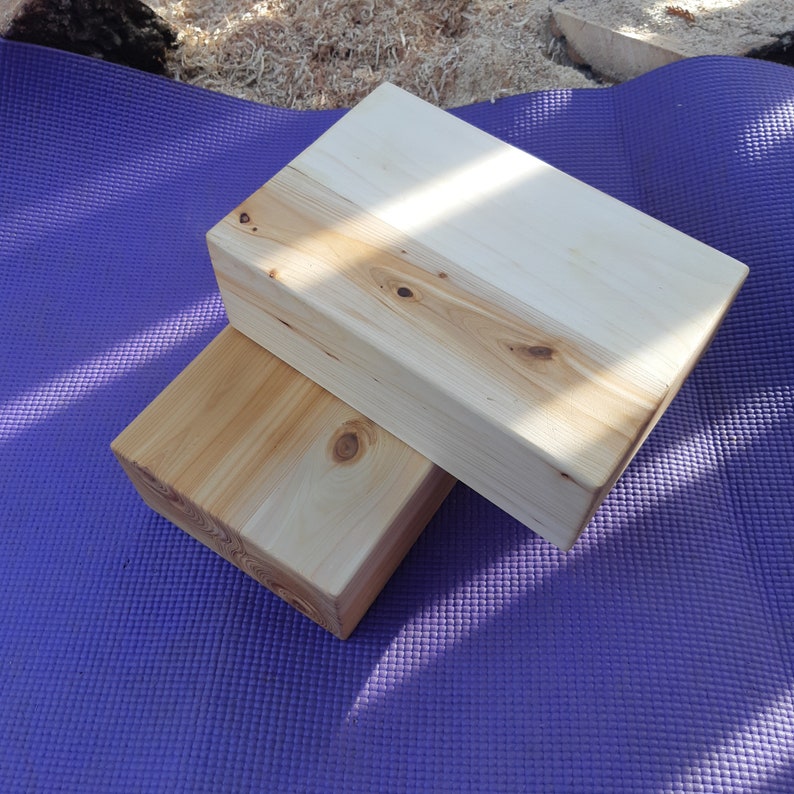 Price: $50.00CAD
These are handmade Yoga Blocks that were cut from a cedar log. Finished with a natural nut based oil to protect the wood and give it some luster.
As an option, you can include the Sanskrit ॐ ("Om" or "Aum") image to be burned on to the blocks. Or send me a detailed description of a personalized item to burn on the blocks.
Dimensions are approximately: 9″ x 6″ x 3″ (23 cm x 15 cm x 7 cm). Custom sizes are available, please send me a message to request.
They are sold as a set/pair.
I get most of my wood as a log from naturally fallen trees in friend's and families' yards. The logs are kept in a dry space for 4 – 6 months to dry and then I cut them into usable sized blanks and shape them in my small shop.
I shape the log to 3″ thick by 4″ wide and then cut a 1″ deep lap joint into them to laminate them to 6″ wide and then cut to 9″ in length. This way I can use a 5″ diameter log instead of an 8″ diameter log and it allows for better usage of the log.
Grain variations and colours will vary from block to block as different logs are used.
Find this and other Health & Wellness items on my website at https://aikiwoodworks.ca/health-wellness.