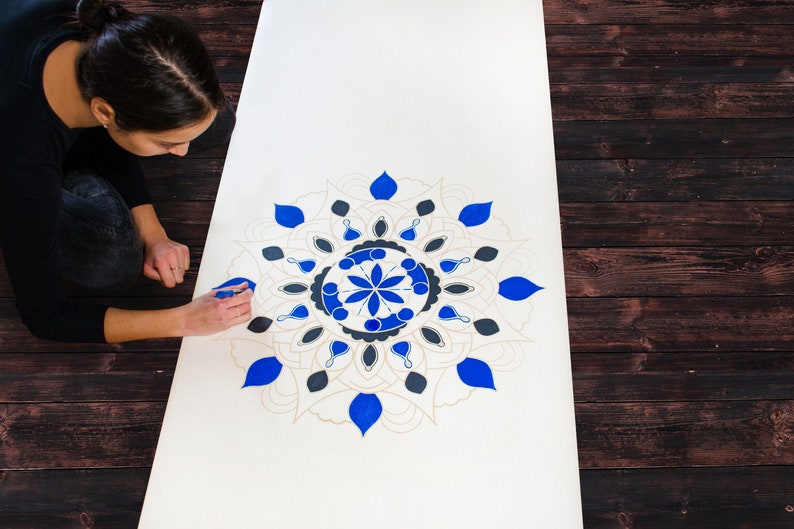 Price: $75.00GBP
Colour In Yoga Mat – Yoga Mat Craft Kit – Zentangle Art – Home Crafts – Creative Fitness Gift for Her
This is the ideal yoga gift to give yourself or someone you love, being the ultimate eco-friendly, mandala yoga mat that:
– Gives you the absolute BEST grip in all poses, even in Hot Yoga, so you never need to worry about slipping again
– Is longer than most mats and keeps its corners stuck to the floor while you work out, maximising your practice space
– Has a layer of antibacterial cotton inside to keep it hygienic for longer and comfy for your joints
– Is easy to clean and comes with cleaning instructions
– Can be personalised using Stained by Sharpie markers
– Is eco-friendly, vegan and recyclable, free from PVC, Phtalates, toxic dyes or glue. Made with sustainably sourced natural rubber
– Comes with an adjustable carrying strap included
DIMENSIONS
– The DIYogi mat is 183cm (72 inches) long, 61cm (24 inches) wide, 4mm thick.
– Weight: approx. 2.5 kg (5.5 lbs)
SHIPPING
Fast shipping to UK and the European Union. All taxes and duties are included in the final price displayed at checkout. You will not be charged additional customs. Free delivery available for some locations.
WHAT IT'S BEST FOR
Ideal for all types of yoga, Pilates, fitness and all types of bodyweight training.
THE BEST GRIP IN A YOGA MAT
The surface of this yoga mat is made of a special material that gives you a firm and stable grip no matter how sweaty your palms get. The mat is ready to use and as grippy as it can get from day 1 – no need to break it in or spray it with water. You'll be able to hold poses for longer and enjoy your practice without ever needing to focus on not slipping again – this extremely non slip yoga mat will simply hold you firmly in place and give you the support and balance you need to take your practice further.
CORNERS STAY STUCK TO THE FLOOR
The DIYogi mat will always stay stuck to the floor and its corners will never roll up or inwards, so you can enjoy its non-slip surface to the max.
ANTIBACTERIAL COTTON INSIDE
Under the surface of this grippy mat there is a comfy layer of antibacterial cotton that keeps it hygienic over time and more cushioned than other yoga mats – so no more painful wrists and ankles!
WHY THIS MAT IS ECO-FRIENDLY
DIYogi mats are eco-friendly and do not contain anything that can be harmful to your body or the environment. They are free from Phthalates, PVC, toxic dyes or glue and 100% recyclable and vegan. The natural rubber used to create this special yoga mat is sustainably harvested and the packaging used to deliver it is fully recyclable.
SAY NO TO PLASTIC POLLUTION
When you buy a DIYogi yoga mat, we donate 3% of the profits to Clear Blue Sea, a non-profit that helps remove large quantities of plastic from our oceans.
HOW YOU CAN CUSTOMIZE IT
You can write and draw anywhere on the surface of your DIYogi yoga mat using Stained by Sharpie markers. The colours will never rub off from sweat, friction and cleaning. The Mandala pattern on the mat is there to encourage you to colour into it if you wish, just like you would do in a colouring book. Stained by Sharpie markers in darker colours are the most compatible with the grey DIYogi mat. The mat comes with customisation instructions on its label. If you choose to draw on it, you can then take it to Hot Yoga and use it & clean it as you normally would.