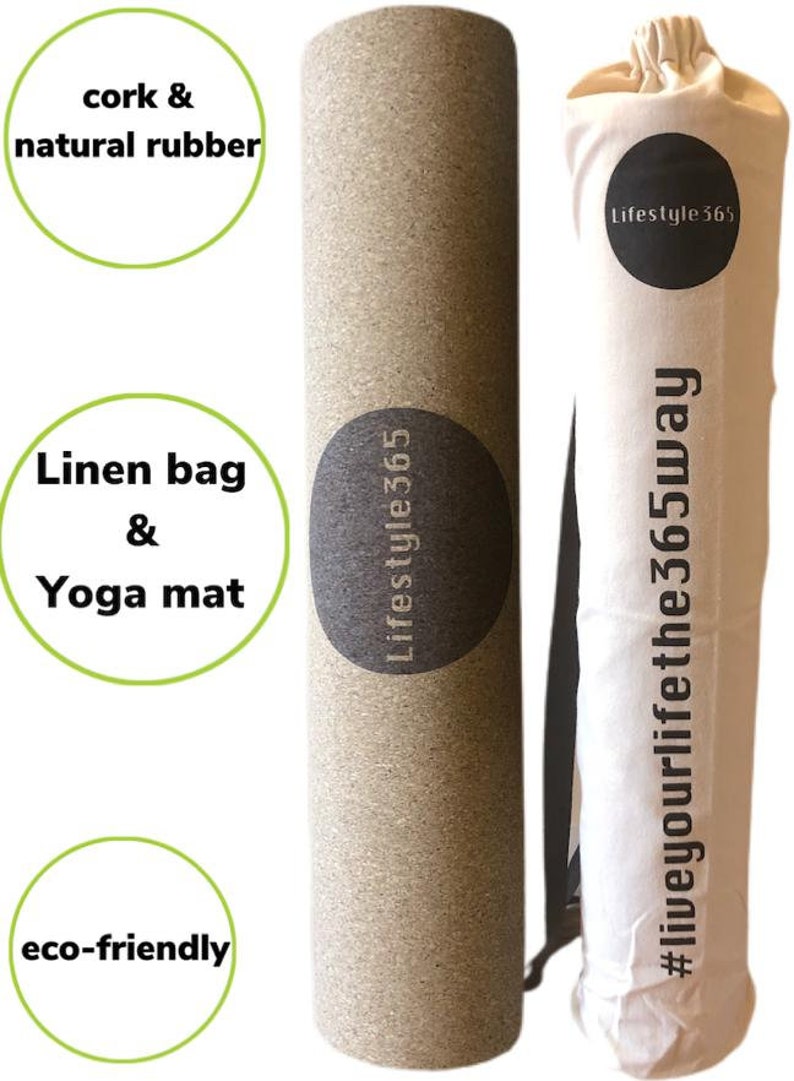 Price: $45.00GBP
Not all yoga mats are equal, some are thicker for more cushion under your feet, some are lighter for ease of transport from home to class; ours is a combination we feel takes this to the next level.
Our yoga mats are made from cork and natural rubber, have a 5mm thickness for that just right feel under foot, are sustainably sourced and each mat comes with a linen over the shoulder style bag – we think that this could be the icing on the yoga cake !!
Here are some fun facts we picked up online for you:
It is anti-slip. The sweatier you get the more anti-slip the cork surface becomes. Now hold the asanas without the feeling of instability. This is because cork absorbs liquid, so the wetter the mat the better the grip.
It has great cushioning for the joints. The high density of the natural tree rubber provides a great cushioning for the joints and the cork surface feels really good on the body.
It is extremely easy to clean! Cork itself is anti-bacterial, so we say just wipe it down with water after your practice.
Cork's anti-microbial properties resist smell, dew and molds.
The natural tree rubber used doesn't have the odour you typically get from other rubbers. Say good bye to smelly mats
It is 100% eco-friendly and biodegradable. The environment is not hurt! Cork is harvested without harming trees and grows back every few years. To make a PVC mat it causes pollution, then to degrade the mat it causes pollution.
When you are breathing on your chemical mat, you actually inhale the chemicals unlike a cork mat! Also as time goes on the chemicals from your chemical mat transfer on to your body.
They have an excellent durability!
Only about 50% of the bark is removed at the time of harvesting.
Cork surface is warm under foot and insulates heat and cold.
It repels small vermin & insects.
It is ideal for people prone to allergic reactions.
Below are some facts to make even the staunchest of rebels smile for the environment:
Cork Is A Resource That Is Renewable: No trees are cut down for cork harvesting. Hand harvested every 9 to 12 years. Each tree can produce cork for about 200 years.
Cork Is Biodegradable: It's recyclable & biodegradable. Production cork waste is reused and ground to make other cork products.
Cork Uses Magical Ingredients: It's anti-static, water-resistant, & resilient. Suberin makes cork naturally resist dust, water and insects! Cork absorbs energy on impact and quickly regains its structure.
Antimicrobial: Cork is highly antibacterial.
No toxins or chemicals: No chemicals or PVCs that harm you or our planet. So-called eco-friendly TPE or other materials are plastic.
The dimensions of the mat are as follows 6 feet by 2 feet and they are 5mm thick. They weigh around 2kg including the bag.