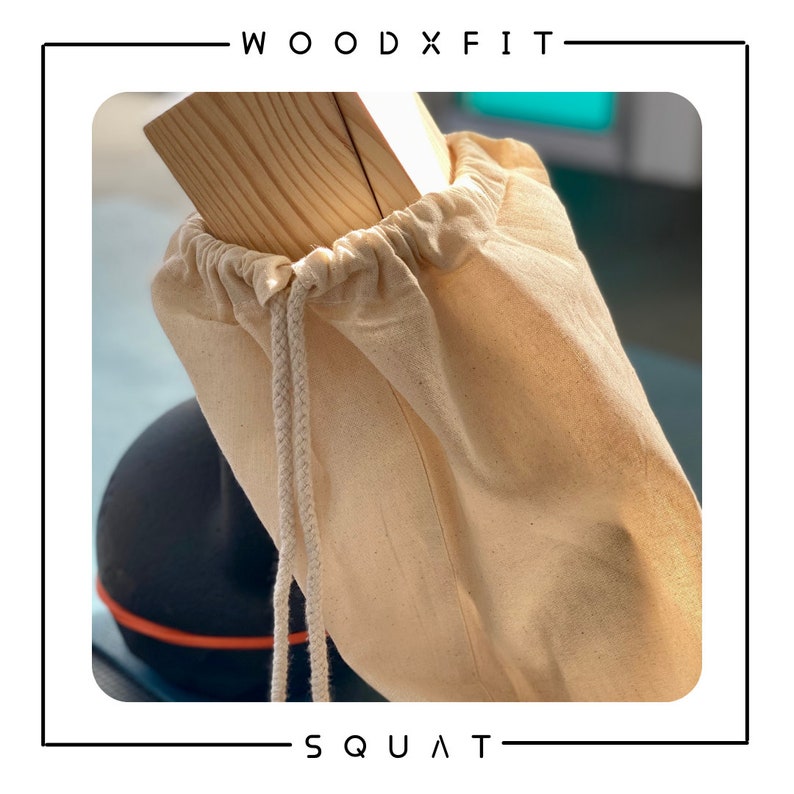 Price: $50.00EUR
We present you WOODXFIT-SQUAT, recycled pine wood wedges, which will not only improve your posture during squats or sport, but we invite you to perform our exercise routine to improve your posture and the angle of your lumbar spine with the sacrum and ilium, as well as the alignment of your feet, knee and hip.
Today we live in a society with a very limited knee and hip flexion. We spend too much time sitting or not enough time being active and when we do move our joints don't adapt properly to the exercises we do.
When you do squats, do you have to spread your knees apart or do your feet go outwards?
It's your hips that say "THWACK!
When you do squats do you feel like your glutes aren't working?
Is it your ankle, hip and back mobility that tells you ARRIVederci!
How much time a day do your knees spend above your hips?
Possibly between nothing and less than a minute.
THESE LIMITATIONS LEAD TO:
Back pain and mechanical low back pain.
Poor hip and ankle mobility, which predisposes the pelvis to shift forward, leading to increased tension in the lumbar muscles and weakness in the abdominal wall.
Lumbar compression and, in an advanced stage, osteoarthritis and pain in the back and hip.
Nerve compression of peripheral nerves such as the sciatic nerve.
Constipation, yes, you read that right, watch our interview and we'll tell you all about it!
THE SCIENCE BEHIND WOODXFIT-SQUAT
Patented angle to counteract the mobility deficit to get you started with the #Restoreyoursquat protocol.
Here you can see several studies that show how in Asian culture there is a lower prevalence of back and hip pain due to their habits of adopting the deep squat rest position more frequently. We leave you the link:
https://pubmed.ncbi.nlm.nih.gov/31121333/
https://pubmed.ncbi.nlm.nih.gov/33767255/
A simple fact: the prevalence of low back pain in Europe and the United States is between 10 and 25% of the population. However, in China it is 1%, in Nigeria 7% and in Japan 3.9%. Knowing how to squat and the hip flexibility that comes with this posture, which is lost when you don't do it, has a lot to do with back pain.
We have designed WOODXFIT-SQUAT so that you can start a guided restructuring programme lasting 4 to 6 weeks.
WHAT WILL I ACHIEVE?
You can do ankle mobility exercises or exercises for the sciatic nerve, check our website and discover our protocols.
Includes organic cotton carrying bag.
Improve your general posture, as well as the correct alignment of your legs with the trunk through its axis, the hip.
Increased mobility of ankles, knees and hips.
Decompress your lower back.
Correct activation of your stabiliser muscles.
Many more benefits that you will discover as you progress through the programme.