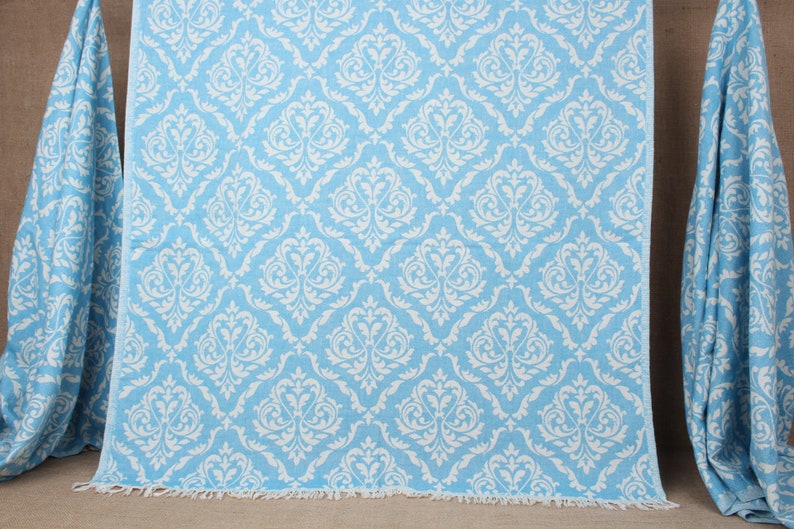 Price: $30.00USD
Custom Towel, Monogrammed Beach Towel, Blue Towel, Baroque Towel, 36×67 Inches Yoga Mat Towel, Guest Towel, Camping Towel,
Welcome to Turkish Towel Paradise! High Quality Organic Cotton Towels with Wholesale Price!
I am a Turkish woman from countryside of Turkey. All of my family had been weaving Turkish towels, hand towels or Turkish blanket all in their life. I have learnt how to make Turkish towels from my family. I can make in any kind of Turkish Peshtemal towels or blankets so that if you have any custom order, please contact to me for details.
Details of Turkish Towel, Hand Towel, Beach Towel, Turkish Throws:
All of my Turkish towels are handmade by me which are double face knitted, ecofriendly, high quality, washable, and suitable for multipurpose.
Size of this beautiful Turkish cotton towel is 36×67 inches – 90x170cm. Turkish Towel size can be ± 2″ or 5cm because of weaving
Material is pure organic cotton which is very absorbent and dry quickly. I made this Turkey towel by using the high quality of %100 Turkish cotton yarn.
The weight of this Turkish Towel is approx 340 gr.
Handmade Turkish Towel can be Personalized with embroidered monogram.
Purpose of Use of Turkish Towels, Turkish Blankets, Throws:
Due to weaving techniques, all of my Turkish towels,blankets, throws can be used on both sides. Multi-purpose Turkish towels, Turkish hand towels or Turkish blankets can be used in every corner of your home, as kitchen towels, bath towels, baby towels, beach towels, travel towels, yoga towels, scarf, pareo, wrap scarves, tablecloths, bedspreads and curtains.
Turkish towels are also known as peshtemal, also spelled pestemal or peshtamal and also called a fouta or hammam towel. Peshtemal towels are light and take up very little space as they are flat-woven. These qualities make them the perfect travel companions. Just roll them up and put in your bag!
Apart from all these, they can be a wonderful gift on your special day as wedding gift, bridesmaid gift or birthday gifts, bachelorette party favor.
My peshtemal towels or blankets can be personalized.Personalized Towels can be very beautiful and unique gifts as bridesmaid gift, bachelorette party gift, henna night gift, wedding gift or special day gift I can embroider any name, date or logo or anything you want on my Turkish towels or Turkish blankets. For this, it will be sufficient to select the "Towel With Name" option when purchasing the relevant product and specify what you want in the Personalization Section.
Embroidery/Monogram detail of the Organic Cotton Towels;
The personalized towels are best gifts that will remind you for a lifetime.
For monogram please let me know;
1. Monogram Letters/Logo
2. Monogram Color (9th photo)
3. Monogram Font (10th photo or you can choose any other from dafont.com)
4. Monogram Location (I advise the middle of the bottom of the Towel)
Shipping of your Turkish Towel, Blanket, Throws:
FREE SHIPPING to Worldwide order over $35.
Within a few days of receiving your order, I carefully pack your towels or blankets and deliver them with fast shipping.
I will ship your beach towels or blankets with DHL EXPRESS or FedEx. Delivery Time: 2-5 business days.
Care Instruction of your Turkish Towel, Turkish Blanket, Throws:
Please wash your Turkish bath towel before first usage. The most important feature of Turkish towels or throws is that they become softer as they are washed.
Turkish Peshtemal towel can be wash in wash machine with in 30 °C – 40 °C
You may add a small amount of white distilled vinegar to keep it extra fluffy.
It is better to hang dry.
Satisfaction Guaranteed for Turkish Towels, Turkish Blankets, Throws:
Your satisfaction is my priority. I will do everything for customer satisfaction as much as I can. If any reason you are not happy from your order, I accept return and refund minus shipping fee from Turkey.
Return is accepted in my Etsy shop without any hassle but please just contact to me for any question you have. I have a lot of beach towels, hand towels or blankets in my Etsy shop as you can see. Their price is demand on their weaving quality.
WHOLESALE order for my hand towels, Turkish towels or blanket is possible. You can be sure, I have already very reasonable prices for my towels because of I make them myself but if you want to buy 100 or more, you can contact me.
I am eternally grateful to you for your support.
Thank you so much
My heartfelt regards
Dilek
37569