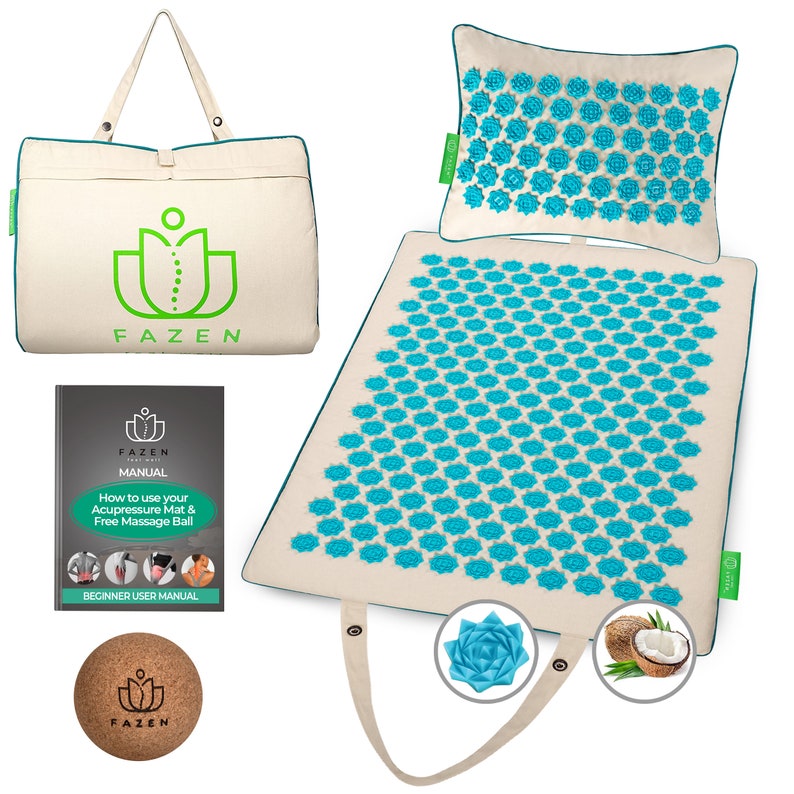 Price: $46.00GBP
THERAPEUTIC ACUPRESSURE TREATMENT : RECOMMENDED BY PRACTITIONERS TO PROMOTE HEALING AND RELEASE MUSCLE TENSIONS: FAZEN acupressure set can be used for revealing several pains like back, neck and shoulder pain. It is also useful for relaxing the tensioned muscles and boost your Energy.
✅ ECO-FRIENDLY, ORGANIC, AND NON TOXIC MATERIAL AND PACKAGING: FAZEN acupressure set comes with a mat and a pillow. The material is made out of natural coconut fiber and 100% organic and breathable cotton. It also comes in 100% biodegradable plastic bag. The whole set is made out of non-toxic material.
✅ CORK MASSAGE BALL TO LIMIT THE PLASTIC USAGE: we care about your needs as well as the environment. So to give you the best option to reduce the use of plastic, we have added a cork massage ball in the acupressure set. The massage ball helps you to release tension for: Legs, Buttocks, Shoulder area and Soles.
✅ EASY CARRY BAG — CARRY WITH YOU WHEREVER YOU GO: FAZEN acupressure set velcro strap which makes it easy to carry. You can take this set to your yoga class, office or place it for your car seat. You can also take it for long trips and drives.
✅ DIMENSIONS AND USER MANUAL: FAZEN acupressure mat is 72 × 45 × 2 cm and the pillow is 39 × 29 cm. The dimension of each spike is 3 cm. If you are a first time user, you do not have to be anxious about how to use the FAZEN acupressure set because we provide you with a user manual. It comes with all the details of how to use this product.