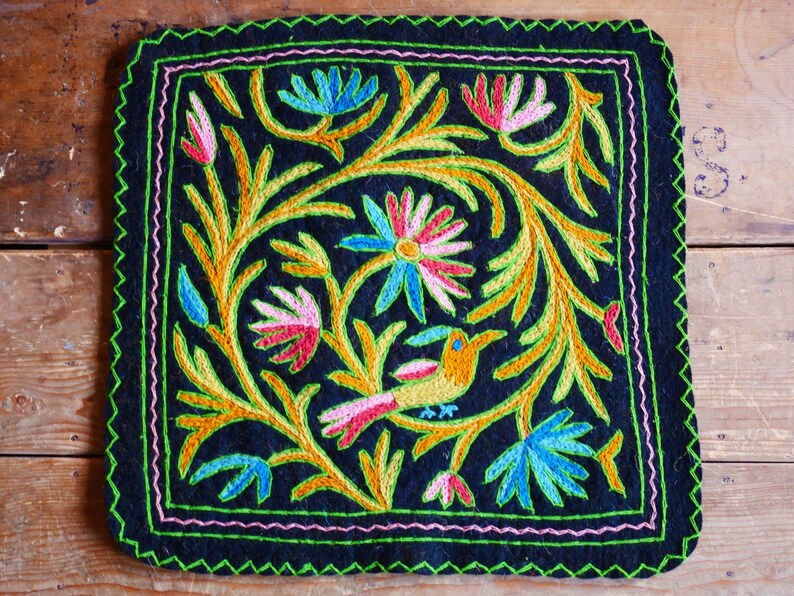 Price: $29.95EUR
Hand felted small rug – meditation mat "Namda" made of pure wool and hand embroidered
In the mystique state of Kashmir in the North Indian Himalayan region, no matter poor or rich, it is traditional to sit on the floor and the floor can get really cold in the Himalayan region of Kashmir. Namdas, made of pure wool – hand felted and embroidered, are not only decorative rugs and magical, unique pieces of textile art, but also the best answer to cold floors and perfect for beautiful floor seating arrangements. They are also used as decorative bed covers or to adorn any corner of the home with its beautiful embroidery as bohemian tapestry How about using it for your cozy boho bedroom corner? You will love the "natural feeling" of it!
This one of a kind Namda rug base is dyed with veg. colors in natural white tone and embroidered with woolen thread in a traditional, floral design. The color combination is rich
Size is approximately 24inches by 24 inches = 55 by 55 cm (please note: the Namdas are never perfectly rectangular or straight)
Material: pure sheep wool embroidered with veg. dyed woolen threats . height – 1 inch
We have different designs and sizes available and the pricing is according to design/ size and amount of time that goes into the making of each piece. See our other designs, for more inspiration:
https://www.etsy.com/shop/theshantihome
If you have any questions regarding this product, simply hit the "Ask a Question" button next to the price and I will get right back to you!
Namasté from India
Sahera Jo
The story of a traditional "Namda" :
Pure sheepwool , from the mountain area of Kashmir, is collected, cleaned and dyed. Then woolen flakes are spread evenly on a jute mat (minimum 3 layers of dyed and natural – like a sandwich), then sprinkled with soap water. The mat is then rolled tightly , tied up and compressed bx rolling it on the floor with the help of hands and feet for a long time. The ready plain Namda is then dry washed by the local women and finally embroidered by hand with the Aari (needle hook), traditionally floral designs are used but also geometric and more modern designs are possible.
The word "Namda" comes from the 11th century, when the Mughal King Akbar searched for a suitable cover for his cold bitten horse. An old man named "Nubi" offered his felt covering, which he had made himself. It was beautifully embroidered and Akbar was so impressed by the workmanship, that he bestowed great honors to "Nubi" and his village and the craft of making "Namda"s became famous. Originally the sufi saint Sha-e-Hamadan brought this and other crafts from Persia to Kashmir: "give a poor man a fish and he will eat for a day, teach him how to fish and he will have food his whole life"