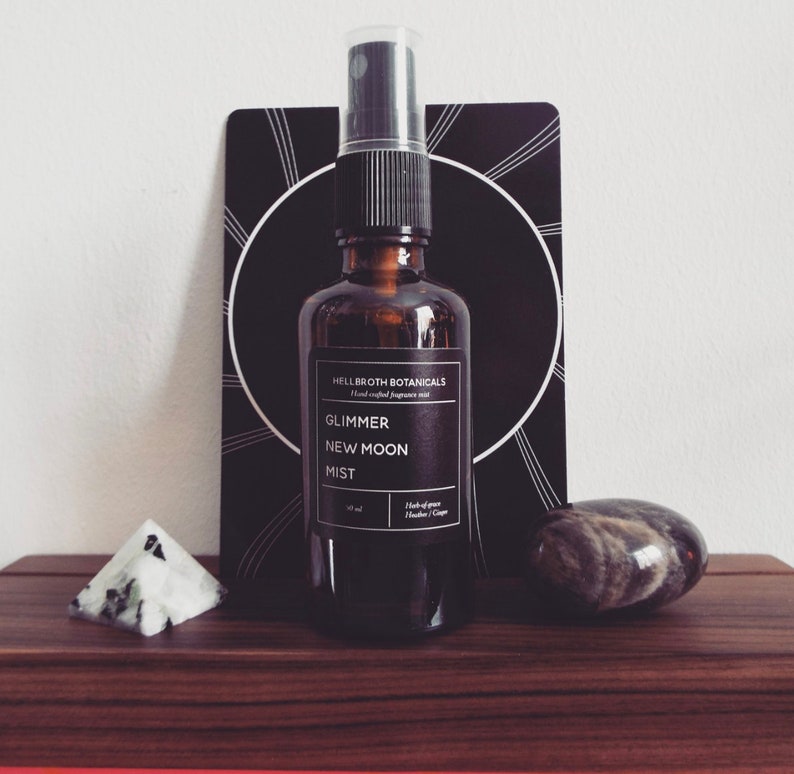 Price: $15.00GBP
Well, the New Moon has swung around again, and it's time to review our intentions from the last lunar cycle. Whether you have gone full steam ahead and put all of those plans and intentions into action, or you haven't got much further than a cursory glance at your To Do List, clear your mind and refocus your energy with this fresh Moon Mist aroma.
This grounding and earthy scent is perfect for spritzing over yourself, enlivening your space and using as a room spray, refreshing sofas, cushions, beds or curtains; or to spray over a yoga mat or meditation space.
It contains ethically harvested, wild-crafted essential oils and cleansed and charged crystals, on a base of natural witch hazel and triple-distilled Northumbrian water.
Herb-of-grace, otherwise known as common rue or arruda rue, has been used as a magical herb for ritual and ceremony for centuries.
Notes of heather are evocative of summer strolls in the countryside, bees flitting from plant to plant and the sun slanting through the trees.
Ginger invigorates the senses, comforting and warm, reminiscent of a winter evening spent by the fire.
Your Moon Mist comes in a 50 ml amber glass spray bottle with a plastic twist-lid, sprayer and cap. Shake well before use and do not ingest. If you plan to spray your moon mist onto fabrics, walls or surfaces, I'd advise to stand well away and spray at a distance rather than directly onto it, in case of staining. You can always patch test a small spot first! I tend to stand in the centre of the room and just spritz around me in a circle, and mist over my sofa from around 2m away.
Please note that arruda rue (herb-of-grace) is a scent not well tolerated by cats! It is not toxic for them, however, it has been used traditionally to repel cats, rabbits, and slugs from flower beds and veggie patches.