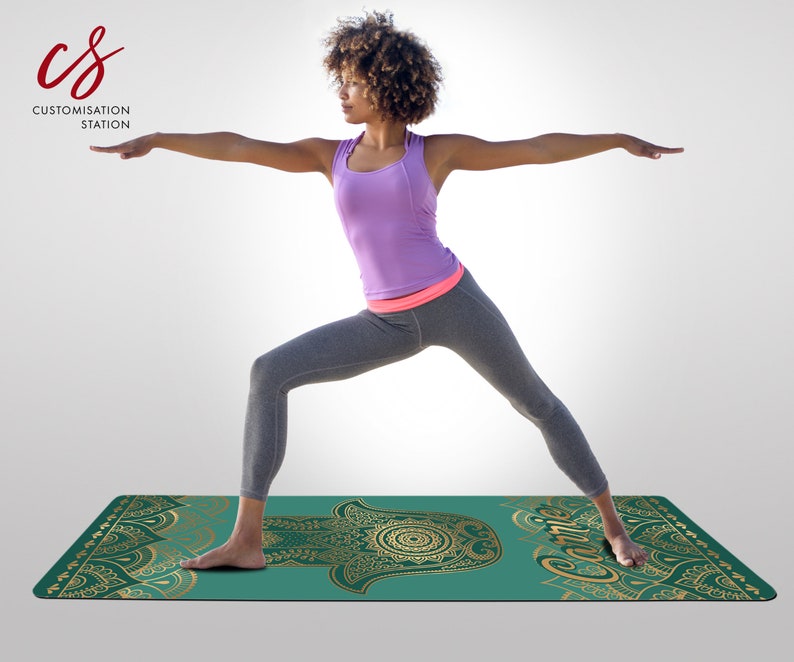 Price: $85.00USD
Hamsa Yoga Mat, Custom Yoga Mat, Personalized Yoga Mat
Ready for yoga yet?
It's grippy surface and durable construction make it well suited for beginner and advanced yogis alike! Our yoga mat is designed for all practices, where maximum grip is essential, yoga, pilates, stretching, meditation, etc.. 100% natural rubber bottom with premium antibacterial microfiber suede top. The natural rubber base provides cushioning and prevents the mat from slipping on the ground. Eco friendly, latex, silicone and toxic free.
• 72''x27'' (181cm x68cm) 1/6 inch thick (4mm), 2.8kg
• 72''x27'' (181cm x68cm) 1/16 inch thick (1.5mm), 1.4kg
FEATURES:
• All mats come with a shoulder carry strap.
• Suitable for all practices – yoga, pilates, stretching, meditation, etc.
• Personalize the mat and strap with any name or logo /optional/.
• Anti-slip, eco-friendly grip base.
• Latex free.
CARE:
Care for your mat is as simple as an occasional rinse with warm water, a soft cloth, and mild soap. Do not machine wash. AVOID alcohol based cleaners. Suggested storing and transporting of your yoga mat is with the art side rolled inward. A suggested initial rise with warm water and a mild soap will help expedite the remove of any residual film from the print process.
IMPORTANT NOTE:
• We will only accept returns if the item is shipped defective (requires photographic proof).
• The sample colors you see may vary slightly from our specimens depending on the color calibration of your monitor.
• We do not keep yoga mats in stock. Creating of your yoga mat will take between 2-3 days.
PROOF & REVISE FOR PRINTED:
You'll receive a proof of your design after purchase within 1-3 business days via Etsy message. Please be aware of the proof files we send via Etsy! We won't print without approval.
Please approve your proof as soon as possible after receiving it or this will delay the process!
Thanks for Shopping with us!
See more of our products on: https://www.etsy.com/shop/CustomisationStation