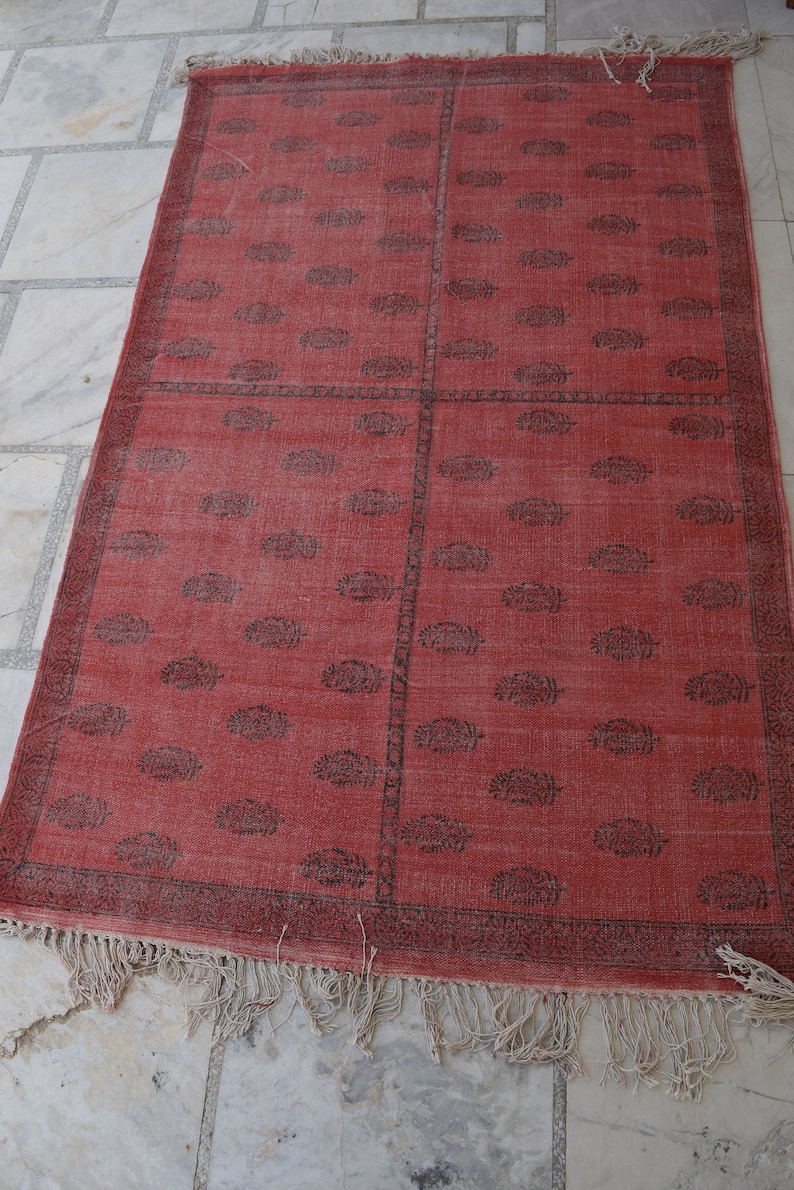 Price: $38.55USD
Handmade hand handwoven cotton floor rug.
hand block printing with traditional Indian method.
stone washed rugs which gives a rug a unique and antique look.
size: any size available subject to any customize size may take up to 1-2 weeks to make.
Material: Cotton
Suitable as:
floor rug,
carpet
as well as a beautiful utility gift for your loved ones.
Know Your Product and Art Behind the Product.
The Collective you have selected is called Cotton Printed Rug. It has been made by Different knids of Art, Firstly it is Hand Woven Rug than it is washed by hand than Printed by Hand with the help of Hand Made Wooden Block. Finally it is stonewashed by hand with the help of stone like tool.
Lets understand the Art :
Hand-woven Textiles
The category handwoven textiles encompasses a broad spectrum of woven fabrics formed by interlacing two sets of elements-warp and weft-with the aid of a loom, which is a device for maintaining tension on the warp elements. Whether the loom is primitive, mechanized, or computer-driven, it is considered a hand-loom if it is operated directly by the weaver. Even though various types of power looms have been developed since the industrial revolution, hand weaving persists in many parts of the world as an expression of ethnic culture, as a cottage industry or small-scale artisan workshop, as an avocation, and as an art form.
Block Printing
INTRODUCTION
Hand Block Printing on textiles refers to the technique by which carved wooden blocks covered with dye are repeatedly pressed along a length of cloth to create patterns. The beginnings of the art of ornamenting textile fabrics by the stamping or printing on of colored designs are lost in antiquity.
History :
Block printing is believed to have originated in China towards early 3rd century. Around the 4th century, records of its presence were found in Egypt and some Asian countries from where it spread to Europe and other places.
Block printing was first developed in China and is said to be over 2000 years old. However, the earliest known example is the Diamond Sutra from 868 AD which is currently in the British museum.
CHARACTERISTICS OF INDIAN BLOCK PRINTING
It is the essence of India and the crafts that make India stand out in the world. However,
the numerous arts and crafts are slowly dying and so have to be renewed and brought back to life. Hand Block Printing is such an art which can be used for making every piece of cloth, every design unique and different from others. This can never be possible by using automated machinery wherein 100s of metres of fabric would come out in the same design and color. It provides sustainable livelihood to many local families. It is skill passed through many generations, and has traditionally been done using Natural Dyes and should be preserved. What makes this technique unique is the fact that the design has to be first carved onto the wooden block by hand, and then executed on the fabric. There is no doubt thatfactory-printed textiles are often cheaper and perhaps more colour fast compared to block printed fabrics. However, block printed fabric reflects human labour and sensibilities of the craftsman which no machine made fabric can ever do.