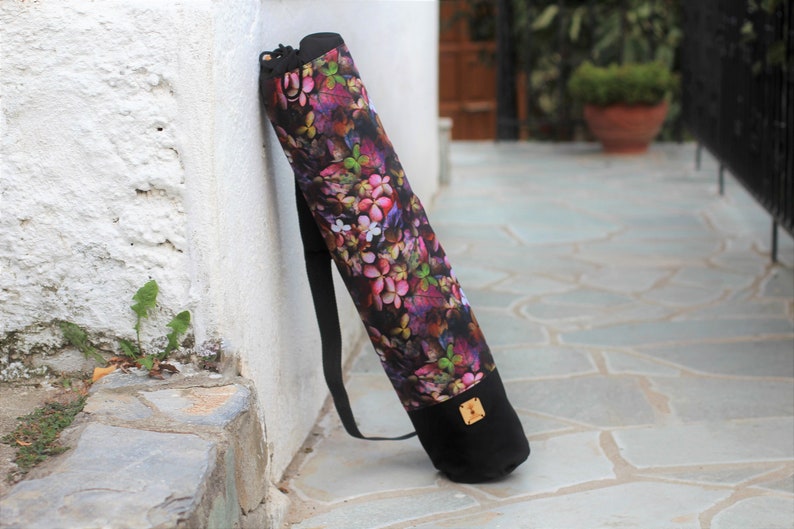 Price: $43.00EUR
This beautiful, handmade Autumn Leaves Print yoga mat bag will make a lovely gift for a yoga lover. It's very light, durable and is made with great attention to detail from waterproof fabrics.
It's great for carrying your mat to the gym, yoga or pilates studio. If you practice outdoor you don't need to worry about the humidity getting in. It's very light, durable and easy to clean. It will make a great gift for any yoga/pilates/gym lover!
It is made of patterned, waterproof fabrics (leaves on black background mixed with black waterproof) made in Poland. Inside it has cotton lining with zipped pocket. The black strap is adjustable for your convenience. This bag has drawstring closure.
Fabric: waterproof polyester (external part), cotton (lining)
Dimensions: height 69 cm (27″), diameter 14 cm (5.5″).
Washing instructions: wipe the bag clean with wet cloth. Please use soft detergents if very dirty and wash in max 30 degrees.
PERSONALISED KEYCHAIN:
The bag comes with wooden keychain with an image of one of the poses and a word 'Yoga'. On the other side of the keychain we can laser etch your own text (in case e.g. you want to offer the bag as a gift) for no extra cost. Just type your text in 'personalisation' field and we will engrave it for you!
SHIPPING
Please note that we ship this bag using REGISTERED service, hence the postage cost. Thank you.
Please note that the photos may be slightly different from the actual item in terms of colour, due to the lighting during photo shooting or the monitor's displayOther sizes can be made to order. Just write us a message :-).
Thank you for reading!
————————————–
Leaves Yoga Mat Bag, Waterproof Pilates Sports Bag, Yoga Lovers Gift for Her, Leaf Bag, Botanical Bag, Floral Bag, Personalised Keychain