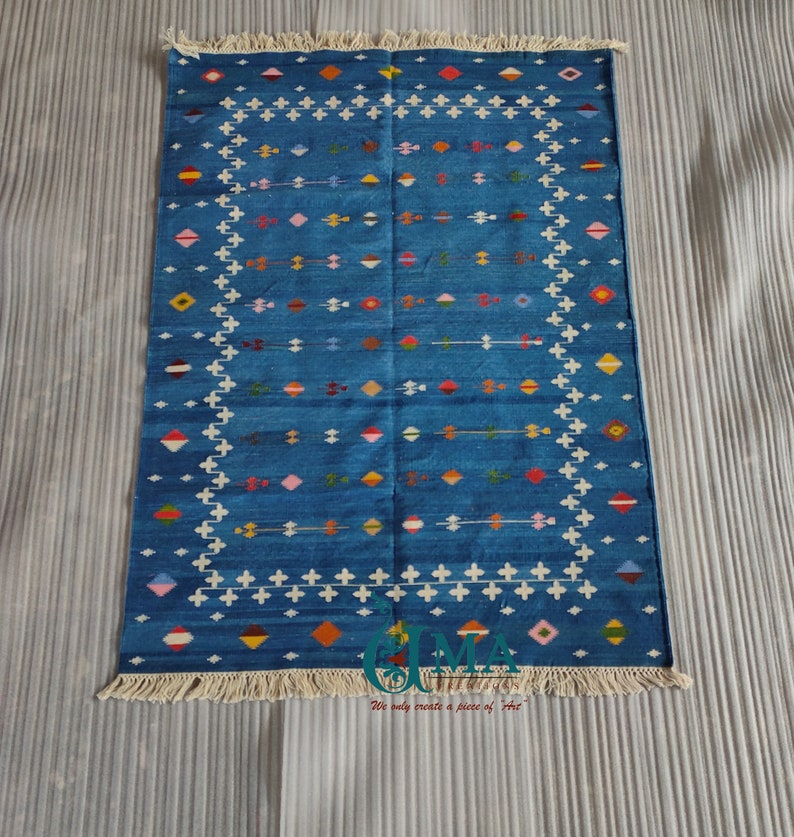 Price: $207.90USD
"Description
These Rugs Are Hand-Woven And Made From Premium Quality Cotton Yarn To Add Comfort, Durability, And Softness.
The Traditional Collection Durries Range Is Made From 100% Cotton. This 3×5 Durrie Is Made From Cotton Which Is A Body Friendly Fabric. The Cotton Fabric Does Not Cause Any Allergies Or Irritations, Unlike Other Materials. The Fabric Drains Away Moisture, Making The Durrie Breathable And Comfortable. This Durrie Is Suitable For Use All-Year Round Because Cotton As A Fabric Keeps You Cool During Summers And Warm During winter.
These Rugs Feature Transitional Patterns And Vibrant Colors To Match Any Decor And Give a Unique And Attractive Look To the Floor, Kitchen, Bathroom, Entry Way, Apartment, Dorm Room And More.
Washing Instructions: Normally Washable In Cold Water
Features
• Our Rugs Are Handwoven and Combined Beautifully With Natural 100% Cotton.
• Washable At Home (Cold Wash Only)
• The Rugs Are Very Light In Weight
• There Are Color Variations That Give It An Abrashed Vintage Look.
• Size: 3'X5' (91 Cm X 152Cm Approx)
• Suitable For Living Area, Dinning Area, Bedroom, Garden Area, and Study Area, And Also Suitable For
Workspace.
• All Our Rugs Are Best For Gifting Purpose And Also For Personal Use.
• All Our Rugs Are Manufactured By Skilled Artisans.
• The Colors Of The Rugs Are 100% Eco-Friendly.
• All Our Rugs Are Reversible.
• All Our Best In Quality And Best In Design.
(Note- All Rugs Are Customizable According To Specific Needs And The Handling Time Is 3- 4 Weeks.
The actual Product Can Be Slightly Different From The Picture Show Due To Varied Resolution Or Lightning At the Time Of Photography.)