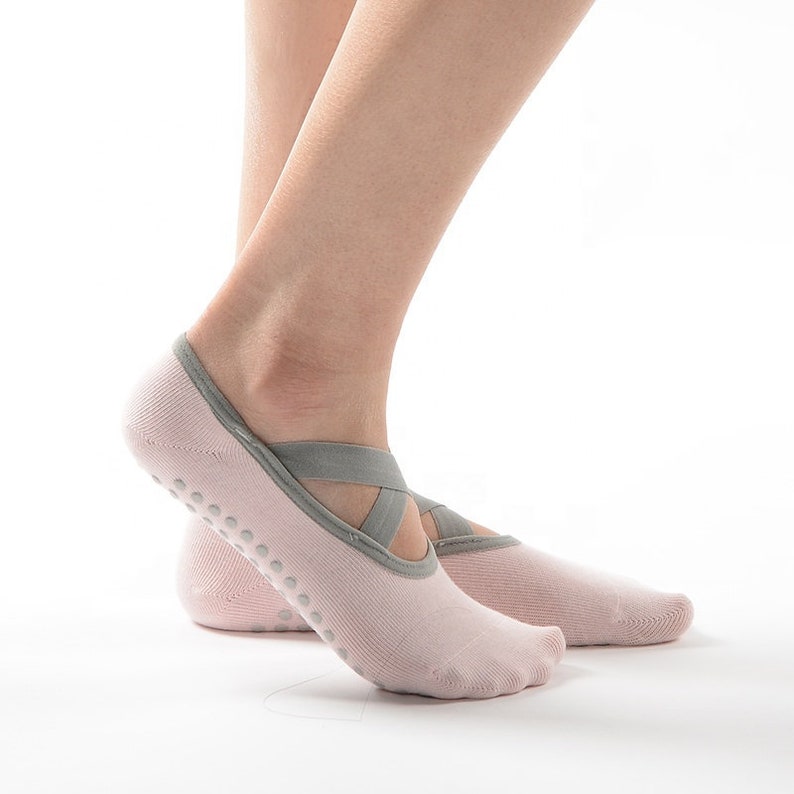 Price: $19.50USD
This product is a personal favorite. After suffering from cold, bare feet through my yoga class or slipping out of yoga poses with socks on, I found these high quality Meikan skid proof socks that solved both dilemmas.
Though I originally intended to use these socks only in my yoga and Pilates classes, I instantly fell in love with them at home, too. These socks work great on our hardwood floors and tile so I won't slip while walking around without shoes on. They have also saved our carpets, as they are a great option to wearing shoes in the house. We have had some customers report that they are great for older men and women who can't easily get shoes on and off, but like the security of walking around the house with a skid proof option. They are even comfortable to wear to bed for a steadier, late night trip to the bathroom.
These socks are a women's size Medium. They comfortably fit children's sizes 2(*may be a bit long depending on foot width) through adult women's 'medium' size 7.5 or 8 (approximate based on foot width).
Unstretched and off the foot, the socks measure 8″ x 3.25″ at their widest point.
Option in Pull Down Menu: As an option to your purchase, you may choose to add a small, black carry tote with coordinating embroidery to store the socks in so you can keep them together as a pair and find them easily in your drawer or yoga bag. The hand made bag is constructed out of soft cotton twill with a velcro closure at the top. Embroidered on the front (if desired) is a yoga image. You may also add your name or monogram in small letters underneath. Please specify your personalization request in the Notes to Seller section of the order. We recommend a block style monogram due to the space constraints we have to work with. Please message us, as we are very flexible with what we can embroider on the bag to customize. Bag measures approximately 9.5″ x 6″.
Initials: If providing your initials for a monogram, please provide them in the order of first name initial, LAST name initial (center and larger) and middle name initial. For example, Jane Ann Smith would be JSA.
Thread color used will coordinate with the sock color unless you request we use a different thread color option. Happy to accommodate requests!