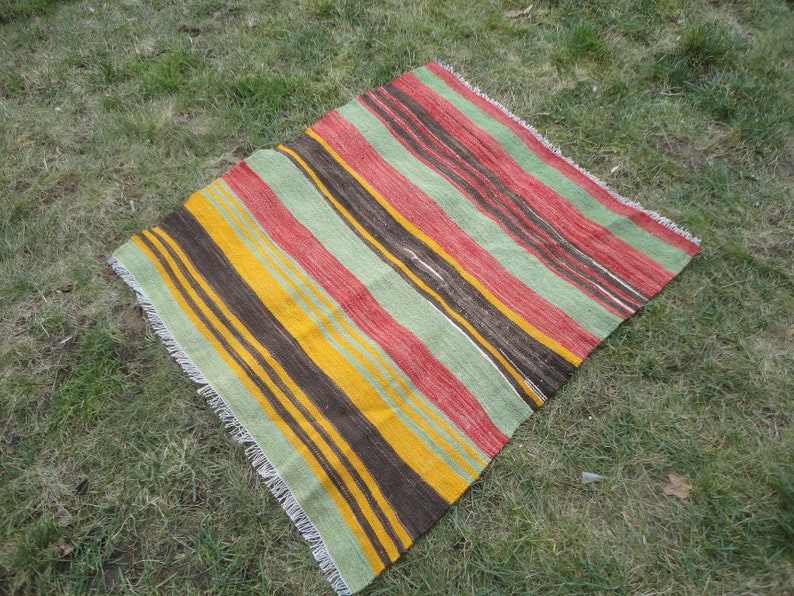 Price: $146.00USD
Shower Mat,Rustic Sink Rug,Little Gift Rug,Hand Made Turkish Kilim,Boho Bath Mat,Striped Bed Side Rug,Vintage Bathroom Rug 3' 4'' x 3' 3''
one-of-a-kind hand-woven,genuine Kilim rug
Vintage kilim rug hand-woven in Turkey in 1990's. This attractive tribal rug is in very good condition. It is perfect for both bohemian and contemporary setting.
Due to its vintage nature, there will be signs of aging, which isn't considered flaw but character
These rugs are vintage so some rugs may show slight imperfections but I do my best to picture the quality and color scheme of all my rugs.
Photos of the rug may differ from screen to screen !!!
We Ship The Rug Directly From Turkey !!!
You Will Receive Same Rug In The Pictures !!!
Rug Comes From Smoke Free And Pet Free Area
Reminder that all of my photos are taken in natural daylight with no editing but tones of rugs can change based on the amount of natural light your space has.
Please don't hesitate to ask any questions,you may have !!
All My Rugs In My Etsy Shop Are Ready To Be Shipped,I Ship My Rugs In 1 Day Time !!!
Door mat
Turkish kilim rug
Area rug is made of hand spun sheep wool and vegetable dye
Hand made rug is clean and ready to use.
Entrance rug is very rare and unique
Bathroom rug is flat woven
vivid color rug is in good condition
Each rug in our Etsy store is unique and authentic.
Size in inches: 41'' x 39''
Size in centimeters: 104 x 100
Size in feet: 3' 4'' x 3' 3''
We are going to ship your rug by fedex express company same day you order and you will receive
your packet within 5
business days with online tracking number.
All our rugs come to you from pet and smoke free place.
Vintage rug's photos have been taken in the day light ,without using flash,in naturel light.
Please look at our other rugs, for sure you will find something for your floor or for the wall.
We accept returns but before doing this,please contact us to solve any problem you may live.
Feel free for any questions, you may have, we will respond it ,as soon as possible, Please
do not forget, we are ready for all kinds of support before and after sales !!!
I AM GRATEFUL FOR YOUR SUPPORT THE HANDCRAFT AND MY SMALL BUSINESS,LAILA !!!
kd:atur
What is a Kilim?
Kilim, a word of Turkish origin, denotes a pileless textile of many uses produced by one of several flatweaving techniques
that have a common or closely related heritage and are practiced in the geographical area that includes parts of Turkey (Anatolia and Thrace),
North Africa, the Balkans,
the Caucasus, Iran, Afghanistan, Pakistan, Central Asia and China.
Although at times you may find kilim rugs included in the general genre of "oriental rugs", in more accepted practice, kilims are in a class of their own.
The major difference between a kilim area rug and a carpet or a pile rug is that whereas the design visible on a pile rug
is made by individual short strands of different color being knotted onto the warps and held together by pressing the wefts tightly,
kilim designs are made by interweaving the variously colored wefts and warps,
thus creating what is known as a flatweave.
Kilims are generally woven with the slitweave technique. The slit refers to the gap
left between two blocks of color. It is created by returning the weft around the last warp in a color area,
and the weft of the adjacent color is later returned around the adjacent warp.
Weavers pack the weft tightly to completely cover the warp and often favor diagonal patterns
so as to avoid weakening the structure of the rug with vertical slits. It produces bold, sharp patterns that weavers
enjoy creating with more freedom allowed than a plainweave. This is also why kilims are so closely associated with
geometrical designs even though there are are kilims with floral designs as well.
This is the most common weaving technique used to create geometric and diagonal patterned kilims.
The slit refers to the gap left between two blocks of color. It is created by returning the weft around the last warp in a color area, and
the weft of the adjacent color is later returned around the adjacent warp. Weavers pack the weft tightly to completely cover the warp and
often favor diagonal patterns so as to avoid weakening the structure of the rug with vertical slits.
They work on one color block before moving onto the next. It produces bold, sharp patterns that weavers enjoy creating with more
freedom allowed than a plainweave.
It also results in a smooth kilim that is reversible with the same pattern on both sides in most cases.
Kilims are Versatile
Are kilim rugs just floor coverings? No, some are hangings, some are bench or divan coverings, bags or mule saddles.
They are very popular as colorful kilim pillows, as well.
Hanging Kilims
Kilims look great on walls since they are also art pieces!
What does it take to make a kilim?
In material terms, not very much really. A loom, a beating comb, a shuttle (optional) and a knife or
scissors are the simple tools needed and wool is the primary material. Cotton,
silk and animal hair (goat, camel, or horse) are also sometimes used, mostly in conjunction with wool.
Gold or silver thread, beads, and other small decorative
baubles that strike the weaver's fancy are also sometimes inserted into the design, but not very often.
The Loom
The earliest known illustration of a loom appears on an Egyptian bowl dated to ca. 4000BC,
but its invention is believed to have been made even earlier,
at the dawn of civilization. Today, though looms may vary in type, size and complexity of construction,
in most cases they are quite simple structures of wood with, perhaps, a few metal parts.
The function of the loom is to hold the longitudinal strands (known as warps) under tension so that the horizontal strands
(called wefts) can be woven between the warps to produce a kilim rug. Custom and circumstances usually determine the type of loom used.
Sedentary villagers usually employ a fixed vertical loom while nomads, for the sake of portability, generally employ a horizontal ground
loom where stakes driven into the ground hold the loom in position.
Adjustable looms with a fixed width but with a mechanism permitting the completed horizontal kilim section
To be moved out of the way of the weaver are usually found in more sophisticated contemporary kilim workshops.
A beating comb is usually just a larger and cruder version of the familiar hair comb; it is usually made of wood,
metal, bone, horn, or some combination of these materials. Its function is to compress, i.e. "beat down",
succeeding lines of wefts against the preceding ones so that the kilim rug produced is tightly woven.
The shuttle is basically a stick with notches in the ends. When used, the weft end is placed in the notch and
the shuttle is then inserted between alternate warps to produce a weave, but weavers often prefer to dispense with
the shuttle and pass the weft between the warps by hand.
A knife or scissors are used to cut and trim the wefts and warps.
Materials
Wool is the primary and often the only material used to make a kilim rug. Many kilims are made totally from wool where it is used
for both warps and wefts, and wool is the primary weft material used with cotton warps, which accounts for the great majority of all kilims.
This popularity of wool is due to its inherent qualities. It is supple, durable, handles easily
when spun or woven, readily takes on dyes and, most important, is in plentiful supply in kilim-making regions.
There are certain breeds of sheep, like the merino, whose fleece is especially sought-after for its special luster and length of fiber,
but actually it's the domestic fat-tailed sheep bred with its favorable climatic
and grazing conditions that provides much of the excellent fleece used in kilims.
Cotton is commonly used for warps because of its high strength and plentiful supply. Also, because it keeps its shape well in use,
retains its natural whiteness with age, and because it can be spun into fine, thin strands, it is commonly interwoven
in places to highlight certain aspects in the overall design executed mainly with wool.
Animal hair – goat, camel or horse – is used sparely in kilim-making, but to good effect.
Very strong and durable camel hair, where available, is sometimes used to give added strength to a woolen kilim rug,
while tail or mane hair of horses is used by some nomads to provide decorative fringes or tassels.
Goat hair was commonly used to weave nomadic tent and floor covers for its strength.
Whereas goat hair is rougher that wool, angora goat hair, "mohair", is much softer and gives a silky sheen when mixed with wool.
Mohair is also used to make the lustrous "filikli tulu" with its shining locks of hair.
Silk was and remains a luxurious material, and though flatweaves made from silk are now rare they are still produced, notably in the Kayseri
district of Anatolia in Turkey. Bridal dowries that include
silk flatweaves are treasured, regarded as status symbols, and protected as family wealth.
Beads and baubles, and other items that may be regarded as extraneous to a
flatweave readily marketable in Western countries, are sometimes interwoven into a
kilim design by some tribal kilim-makers and, due to their very authenticity, such kilims have a certain ethnic appeal.
Kilim Motifs and Symbols
Motifs are derived from symbols that were used in ages gone by to inform, communicate and to convey ideas. Over time, some of these signs merged with myths,
acquired hidden significance and moved into the world of esoteric symbolism. In this context, their use may not be limited to decorative purposes.
Due to the hidden
forces they are believed to imply, their primary purpose may well be psychological rather than aesthetic.
Kilims in Museum and Exhibitions
Antique Kilim rugs find their places in numerous museums, galleries and exhibitions.
Here are the most important museums that house kilims:
The Textile Museum (Washington D.C., US)
Metropolitan Museum of Art (New York, US)
Museum of Turkish and Islamic Arts (Istanbul, Turkey)
Vakiflar Carpet and Kilim Museum (Istanbul, Turkey)
Vehbi Koç Büyükdere House (Istanbul, Turkey)
Sotheby's Gallery (London, UK)
Why Buy A Wool Rug?
When choosing a rug to complete a room, we feel it's important to go beyond the aesthetics and consider the material it is made of.
While rugs made from synthetic fabrics may look similar to wool versions, when you scratch beneath the surface,
it's clear that they don't have the same advantages. Everyone knows that wool is soft underfoot,
and keeps a room insulated from heat and sound, but there are a number of other practical, health, environmental, and ethical benefits,
that may make you consider choosing a wool rug for your home.
Fire Resistant
Due to its high protein and moisture content wool doesn't carry a flame,
so it more likely to just smolder and extinguish itself when it comes into contact with fire.
Its naturally fire retardant properties are the reason it's chosen by casinos, airlines,
and even firefighters. Not only this, but it also produces lower smoke emissions
so that it won't emit such dangerous levels of toxic fumes such as carbon monoxide.
Stain Resistant and Easier to Clean
It's also much easier to clean a wool rug, compared to a synthetic alternative,
because the natural coating of light wax on each fibre makes it much more stain resistant than
the best synthetic fibers. And they hide dirt well. In fact wool rugs can contain a pound of
dry soil per square yard before they begin to look dirty.
Yet wool also has the ability to release dry soil easily so wool rugs are easy to keep clean through regular brushing or vacuuming.
Wool is also highly water resistant. Untreated wool still contains naturally fatty lanolin that makes
wool almost waterproof. Wool fibers are also very absorbent meaning that they can soak up about 20% of their
own weight before water starts to leak through. This means that spillages onto wool rugs can easily be wiped off.
Healthy
Dust mites are tiny creatures that can live in soft furnishings. Dust mite allergy is a common condition,
and is associated with asthma, eczema and perennial allergic rhinitis. But they don't like wool.
Research performed by the German Applied and Experimental Allergy Research Association (GAF) showed
that wool carpets performed best in resisting dust mite infestation. Wool rugs also act as a natural air filter,
trapping allergens such as dust and pollen. Even if you don't suffer from dust mite allergy or asthma,
there is a health incentive to choosing a wool rug for your home. Hand-woven wool rugs do not
emit VOCs (volatile organic compounds) unlike rugs made of synthetic fibers or tufted rugs with synthetic backings.
The carbon footprint of the textile industry is alarmingly large. Mass production of synthetic products results
in millions of metric tons of coal being burned and trillions of liters of water being used. In the US,
textiles are the 5th largest contributor of carbon dioxide emissions and in the rest of the world it is even worse.
Yet the processing of wool has a much smaller environmental impact even when compared to other natural or man-made fibers.
In fact the amount of energy used to produce wool is about an eighth of that used to produce nylon.
It is also the one the few carpet fibers that is made without petroleum—a limited, non-biodegradable resource.
Not only that but wool is considered to be a 'long life fibre' meaning that it retains its properties for many years.
When it reaches the end of its long life, it biodegrades in soil without causing any damage to the environment.
Because it is made from amino acids, when it biodegrades, it actually releases essential plant nutrients such as nitrogen,
potassium, and phosphorous back into the soil. Old carpets can also be recycled, for example in our over-dyed
and patchwork carpets that breathe a new life into tired rugs, or by unravelling the carpets and re-using the wool for new products.
Helps Conserve Energy
Wool carpets and rugs are also energy efficient. Wool fibers have a unique breathable ability
which keeps your home warmer and drier in winter, while keeping it cooler and drier in summer.
A few well placed rugs can, therefore, help to reduce energy bills.
By buying a wool rug or carpet you are also helping to support local farmers throughout the world,
and encouraging them to rear animals for wool rather than meat. Wool regrows naturally every year,
making it a wholly sustainable resource.
Language of Kilims
One day a Yürük tribal chief saw a kilim rug cast on the ground by a tent. Looking at it brought anguish to his heart, so he called on his men to find the father of the girl who had woven that kilim rug. When the father of the girl was brought to the tent the chief asked:
"You have a daughter, don't you?"
"Yes, I do" replied the father.
"As I understand it," continued the chief, "you want to marry the girl to someone she doesn't want. She has set her heart on another."
At first the father was stunned – how could the chief know of this – but then his tongue was loosened:
"That's true, I'm a poor man and the man who wants to marry my daughter is rich, so I promised to give him her hand in marriage. My girl, though, lost her heart to a poor young man…but how could you know of this?"
The chief pointed to the kilim rug on the ground saying:
"Didn't your daughter weave this kilim rug?"
"Yes, she did" said the father, to which the chief replied:
"So I knew about it from the language spoken by this kilim rug…I'll give you a horse, a camel, go and marry the girl to the one she loves. Oh! and tell her this…she wove it well, but she should put a bit less of a green accent by the red…as it is, I was almost misled."
(Translated from "Anadolu'da Kilimler de Konusur", an article by Dr. Mehmet Onder in issue No. 11 of the magazine "Kultur ve Sanat" published by Turkiye Is Bankasi, Sept. 1999, Ankara, Turkey.)
"The lore of kilim motifs, designs, colors and their symbolism is as rich and complex as the combined heritage of cultures that gave them birth and contributed to their evolution."
This touching, romantic story is a delightful illustration of the intricate art of communication practiced by the kilim weavers who are often illiterate in our sense of the word, but are wonderfully erudite in the language of kilim rugs . Girls weaving kilim rugs for their dowry chests use this language to express their hopes for children, good fortune or a strong and handsome husband, while a married woman may show her irritation with a prickly mother-in-law or longing for an absent mate. Ancient tribal allegiance may also be expressed through symbols whose meanings are now perhaps forgotten but still kept in designs by some mysterious impulse of the subconscious. The lore of kilim motifs, designs, colors and their symbolism is as rich and complex as the combined heritage of cultures that gave them birth and contributed to their evolution.
As kilim rugs gained popularity in the West, scholars, enthusiasts and rug dealers suddenly
became interested in this lore, making extensive efforts to analyze the various motifs and designs in order to decipher the language of kilim rugs.
kilim hair band motif
hair band
kilim tree of life motif
tree of life
Researchers such as James Opie, Parvis Tanavoli and James Mellaart investigated symbols found
in kilim rugs and proposed differing theories of their origins and evolution, a way to establish
the etymology of kilim language and a first step towards its understanding. But, perhaps as might be expected, the subject proved elusive.
Although each theory gained its own group of disciples because in each case some interpretations and
conclusions appear astute and logical, there is much agreement that "…there is no direct answer or
watertight paradigm that organizes and explains the development and meaning behind the patterning and
motifs found in a kilim rug." (Quote from "Kilim, The Complete Guide" by Alastair Hull and Jose Luczyc-Wyhowska).
This lack of certainty, however, has not discouraged scholars from pursuing the subject further,
nor has it restrained other interested parties from spinning appealing tales purporting to elaborate
the meanings of various symbols in the context of specific design compositions.
The latter is often the way of merchants trying to sell a kilim rug to an impressionable customer and
consequently these "salesmen's stories" are suspect. But, although it is a rather unscientific view,
perhaps there may be a place for some intuitive interpretation as illustrated by the introductory story related above.
An authentic kilim expert with local roots or deep local knowledge may seem to concoct interpretations
and academics are bound to demand proof, but proof may not be forthcoming because this may not be a world
of strict empirical truth but one that includes feelings, perceptions and an inborn ability to relate on
the instinctive level to the inner world of the weaver.
"…kilim symbols could well be regarded as words or phrases whose meanings may vary according to their placement in the pattern…"
Viewed from this imaginative but admittedly unscientific perspective, kilim symbols could well be regarded as
words or phrases whose meanings may vary according to their placement in the pattern, changes of color, or
slight modification of shape, much like context, intonation or stress alter the meaning of words in a narrative spoken in a local dialect.
To understand it fully, perhaps one needs to be in a community of spirit attainable only by members of the clan,
but ingrained cultural affinity and the deep empathy of an adept may well be sufficient to grasp its essentials
and be able to interpret its overall meaning.
This exotic, cryptic language of the kilim rug, however, also works its spell on many people from backgrounds and
cultures very different from those of the weavers, people who seem to respond to some atavistic chord, grasping a kilim's
essence without being versed in the intricacies of its symbols and designs. Enlightening us on this point are the disciplines
of psychology and anthropology which suggest that there is a kind of unconscious unity among all human beings,
a unity often seen in common archetypal symbols, beliefs and behaviors, and it may be the response of the individual
to some aspect of this collective unconscious that moves the mind to a subliminal understanding and instinctive appreciation of a kilim rug.
Kilim symbols, their various names and surmised meanings presented here are only the bare building-blocks of kilim language.
They acquire depth, nuance and emotional content through immersion, a process that is thoroughly
rewarding since it brings us in contact with the great inner universe of our common human ancestry.
How to Properly Clean a Kilim
Kilim rugs are beautiful works of art, but they were made to be used and walked on.
They can be very durable and resistant. That said, they can also need some special
attention and care when it comes to maintaining them and cleaning them.
While it is strongly recommended that strong detergents and harsh cleaning agents are avoided,
there are easy ways to clean a kilim at home.
Vacuum a Kilim
Use a good vacuum at the correct setting for regular cleaning; vacuuming both sides.
Never vacuum on high suction setting. Never use a washing machine and dryer to clean a kilim.
The best place to wash a kilim is outside on grass or gravel with cold water from a hose.
Never wash it on a flat surface, the water needs to be able to drain away to avoid over
soaking the kilim and making the colors run. Use a soft natural soap or baby shampoo to clean the kilim.
Cleaning
If the colors are fading, use a solution of half vinegar, half cold water on the kilim. Use a very
soft bristly brush on both sides and then rinse with cold water. Lay the kilim flat to dry in the shade,
rotating if necessary to drive evenly. It is also recommended to flip it to prevent sun damage if the kilim
is taking a while to dry and is in the sun.
How to clean a kilimIn the event of an accidental spill or stain, treat the stain immediately.
Remove any solid pieces from the stain carefully to avoid pressing them into the fabric.
Leaving the kilim on the floor, immediately blot the stain to remove all excess liquid as possible.
Start from the edge of the stain and move towards the center to avoid spreading the stain more.
When finished blotting, take a shallow container with a lip that is slightly larger than the stain and place under the stain.
Dilute the stain as much as possible with a clean, cold water rinse. Remove the container, flatten the kilim and blot out the liquid.
Repeat as necessary until the stain is gone. To dry the spot, keep in mind that carpets need to breath when drying.
Using a hair dryer on low or cold setting can also dry the spot faster and may prevent a ring from forming.
If there are stains that stubbornly remain or a professional is needed or preferred, there are a few things to look for when choosing a cleaning service.
Do not take straight to a dry cleaner. Dry cleaners can use harsh chemicals that will damage the kilim.
Search for a professional cleaning service that has experience with a kilim and understand and follow the best cleaning practices for cleaning a kilim.
Chemical Detergents
Once again, never use a harsh or strong detergent or cleaning agent. If there is a pesky stain or a strong desire to use one,
spot test it first before proceeding and use it only after highly diluting it first. Use a cold-water rinse multiple times
until the detergent is completely gone. Never vacuum over the fringes of a kilim. This can lead to them tearing off,
fraying and damaging the edges of the kilim. If using a soft-bristled brush, use short, gentle strokes and brush both sides of the rug.
Begin at the top corner and work across the length of the carpet, moving downward.
Keeping a kilim clean can take a little more work than a studier carpet or rug, but with the right care it doesn't have to be too often.
With the right care and patience, a beautiful kilim can last a long time and one day become a family heirloom.