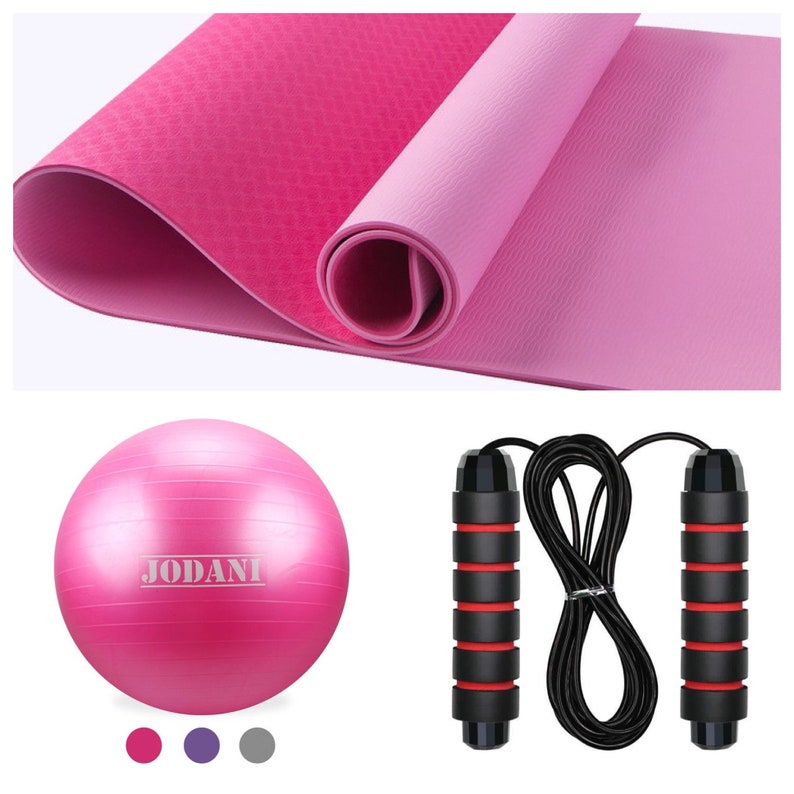 Price: $19.99GBP
Each Lot contains 1 Yoga Mat, 1 Yoga Ball and 1 Skipping Rope
This Yoga Mat is made of non-toxic, odourless and harmless Thermoplastic Elastomer (TPE) material which is eco friendly and recommended by yoga enthusiasts. It cost more to manufacture a TPE yoga mat compared to the traditional non-green PVC and NBR yoga mat. It is a lightweight exercise mat. It is light enough for you to carry to the gym or other places you want with its carrying strap. Extra size and extra long with Length 183cm (72"), Width 61cm (24"), Thickness 6mm (1/4 inches), Weight :1kg provides a perfect balance of weight and cushion. Our mats come with a FREE carry bag in addition to the carry strap.
This gym ball/yoga ball/exercise ball (65cm) is specially designed for comfort and support of your flexibility. Our pregnancy ball is made from non-toxic & anti-burst PVC material. It is ideal for gym fitness yoga exercise and perfect accessory for strength & fitness. They are tailored to improve your balance and coordination when used both indoor and outdoor. Perfect for professional gym and home training. Our pregnancy ball saves time and energy with the quick inflation foot pump included in the package. When the Swiss ball is not in use, you can release the air, fold the ball and store it. Our Exercise ball has anti-skid lines around it which enables it to offer a good grip to the user and on the surface underneath it. Free Air pump is included to help you inflate your exercise ball whenever you want without much difficulty.
This Skipping Rope is perfect for very effective functional exercise that increases muscle endurance, burns fat. Ideal for home workout and is suitable for all kinds of people, including men, women, boys and girls. Non-slip breathable handle's length is adjustable, and its steel wire is thickened and wear resistant.
Built-in rotating ball bearing system to ensure that the skipping rope rotates quickly and steadily without twisting or entangling. Both ends of the rope are specially designed with hollow handles and ball bearings for a tangle-free jumping experience. The length of the jumping rope can be easily and quickly adjusted according to your need which makes it suitable for adults or kids. The ergonomic handles are well designed for your safety and convenience: they are covered with soft sponges, which make the handles comfortable to hold. The handles are covered with a layer of memory foam sponge, bringing a soft tactile sense, absorb sweat and help to keep your palms dry.