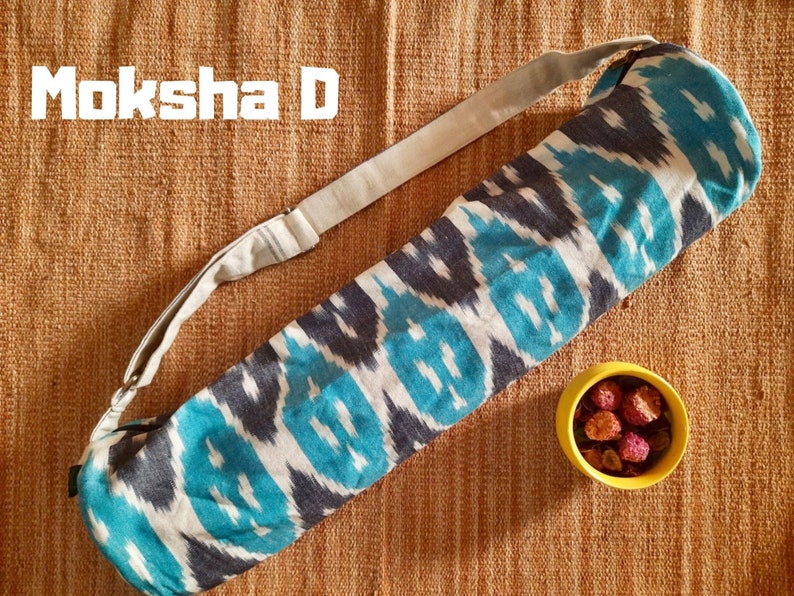 Price: $24.95GBP
Our upcycled Yoga Mat Bags are made from handwoven natural cotton off-cuts and weavers cast asides from material originally designed for bed sheets and repurposed to make our beautifully coloured bags. Lightweight, super stylish, easily washable, totally unique and colourful enough to brighten up every home and studio based Yoga practise.
The story behind our Greenfrogindia Yoga Mat Bag
– The fabric is collected and sourced by ourselves
– Handmade by ourselves and our team
– Zero-waste product 100% upcycled and despatched in 100% plastic free packaging
– Comes gift wrapped in a beautiful upcycled sari bag so wrapped and ready to be gifted
– The GreenfrogIndia label is a guarantee of durability and handmade supreme quality
Fitting
Suited for all standard size 24 inch/61cm width yoga mats with a rolled diameter up to 6.3inch/16cm. Please message me if you have a larger mat size and we can custom make one for you.
Size
Inside Diameter 6.3 inch/16cm
Length 26 inch/66cm
Pocket: WxH 7.5×8 inch /19cmx20cm
Weight: 250g
Our Yoga Mat Bags feature a full zip down the length of the bag and a pocket tucked away on the inside of the bag.for stashing away your mobile phone or notebook with the inside of the bag fully lined with upcycled sari. The bag features a generously sized adjustable strap complete with a shiny steel buckle.
If you are in the U.K we have more upcycled Yoga Mat Bags for free U.K delivery at
https://www.etsy.com/uk/listing/886885441/upcycled-sari-yoga-mat-bag-handmade-from
New for Spring 2022 Handmade Natural Cotton Yoga Mats
https://www.etsy.com/uk/listing/1061858242/handwoven-natural-cotton-yoga-mat-and
All our products that are made or partly made from sari have been given a second life from a much loved sari to what you see here in our shop; on rare occasions the previous incarnation can show in the form of a patch, perhaps a slight fade or minor blemish which themselves tell a story and add to the unique character of each and every up cycled product in our shop. All bags have their individual quirks and no two items will be exactly the same.
All saris are collected locally here in India by ourselves they are then thoroughly washed and sorted by pattern, colour and fabric. Each and every part of the sari is used, nothing is wasted from the borders that make our purses to the small left over materials that make our much loved gift and jewellery bags.
Care: Machine wash in cold (30°) water.
We are happy to take any order or if you need any specific colour option then please message me
For further adventures in the world of upcycling and authentic Indian crafts visit us
https://www.etsy.com/uk/shop/Greenfrogindiashop