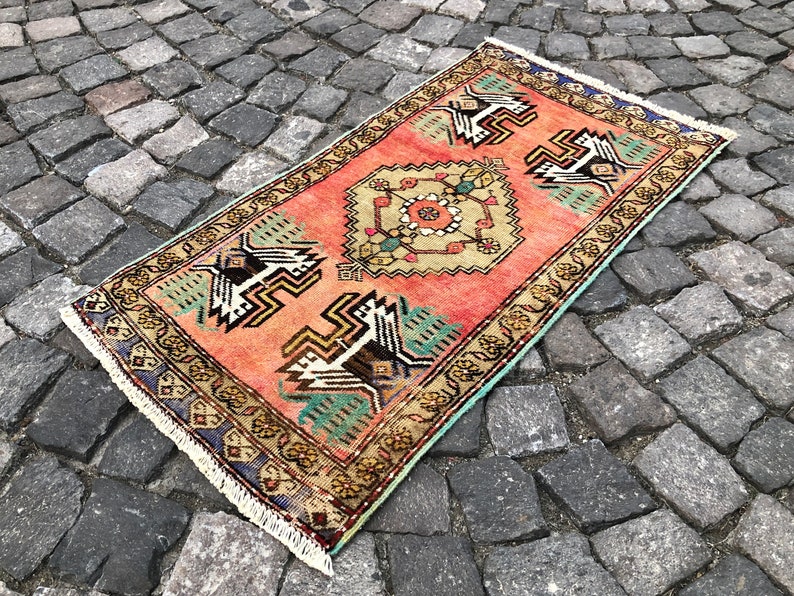 Price: $242.50USD
Vintage Rug, Turkish Rug, Door Mat Rug, Oushak Small Rug, 1.6 x 3.4 ft Orange Rug, Bathroom Rug, Outdoor Rug, Bohemian Rug, Rug for Bedroom, Decorative Foyer Rug, Anatolian Rug, Nomadic Rug, Oriental Rug, Rugs
ELCOME TO TURKISHRUGREPUBLIC
Description
1.6 x 3.4 Feet
19 x 41 inches
50 x 105 Cm
Condition : Excellent
Shipping / Delivery Time / Free Shipping to worldwide.
Delivery time max. 3-4 days.
Payment Method : By Etsy Payment
All of our Carpets are Vintage Carpets. All of our Anatolian Kilims were made by nomadic women in small villages of Anatolia 20-80 years ago.
Vintage Turkish Carpets Anatolian Natural Dyed Wool Carpet.
These carpets and Kilims are very special Vintage Kilims from Central Anatolia in the 1970s.
We collect all vintage carpets from all over Turkey.
We designed these vintage rugs for modern life. And we have made it available to our valued customers.
We shave the long and dirty hairs with a special clipper, so that the short-haired and clean vintage rug patterns become more prominent on the vintage rug.
After cutting the long hairs of the old rugs, they are all washed with herbal rug shampoo.
So they are all ready to be used in your clean and beautiful home decor ideas.
You can find it in our store:
Turkish Rug / Oushak Rug / Tribal Rug / Anatolian Rug / Boho Decor / Bohemian Rug / Handknotted Rug / Doormat Rug / Turkish Runner Rug /Oriantal Runner Rug /Vintage Runner Rug / Antique Carpet / Large Rug / Small Rug / Doormat Rug / Doorway Rug / Bathmat Rug / Bathroom Rug / Handwoven Rug / Livingroom Rug / Bedroom Rug / Diningroom Rug / Patio Rug / Terracee Rug / Outside Rug / Vintage Rug / Handmade Rug / Area Rug / Authentic Rug / Ethnic Rug / Saloon Rug / Laundry Rug / Frontdoor Rug / Turkish Kilim / Oriental Rug / Oversize Rug /Handweaved Rug / Handwoven Rug / Floor Rug / Office Rug / Library Rug / Caravan Rug / Etsy Rug /
Teppich, Türkischer Teppich, Handgefertigter Teppich , Oushak Teppich
Alter Teppich, Dekorativer Teppich, Alfombra Turca, Alfombra Hecha A Mano
Alfombra Vintage, Alfombra Decorativa, Alfombra De Lana, Tappeto
Tappeto Decorati, Tappeto Vintage, Tappeto Fatto A Mano, Tappeto Oushak
Our products are guaranteed for 24 months.
If you have any questions, you can ask us anytime. We can reply 24/7