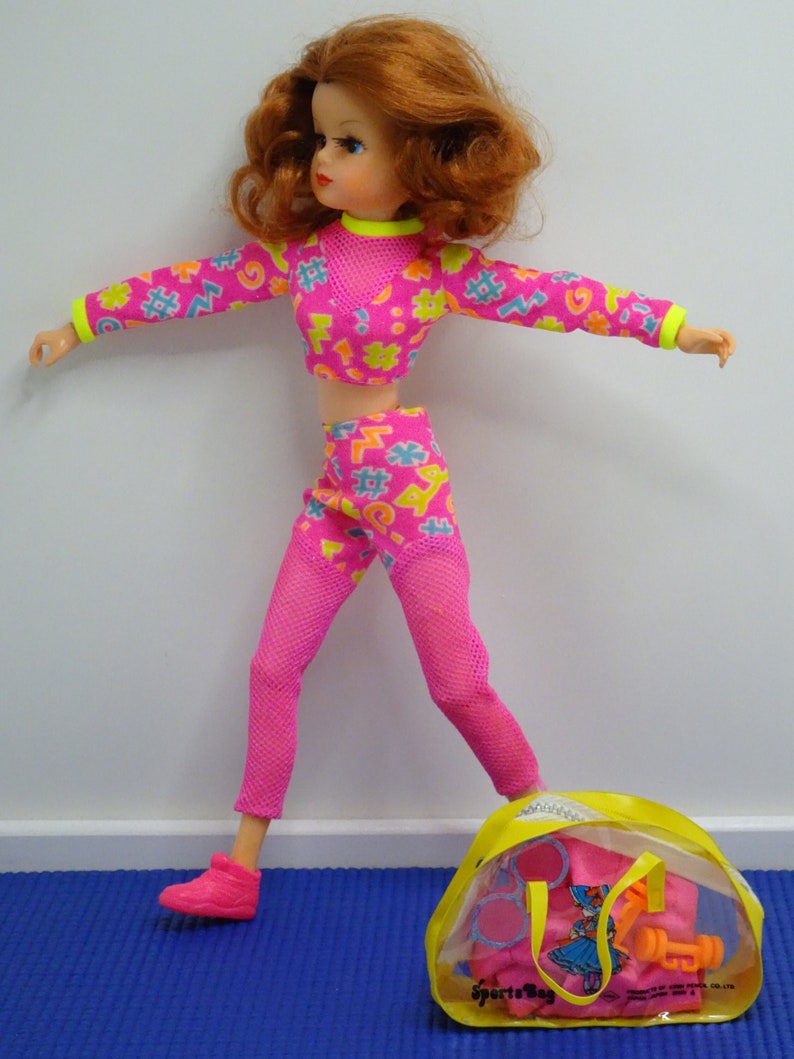 Price: $39.00GBP
A Titian haired articulated Victoria Jane doll made for Debenhams as a Sindy lookalike. Very good condition. her hair is soft and full with waves that stay. All Joints work well, right hand a bit loose. Made in Hong Kong. Make up bright fresh and restyled. Her outfit is vintage Sindy doll and consists of a two piece gym outfit in good condition in day-glo pink/yellow/blue and orange. A lovely one piece gym body suit in day-glo pink which does have a stain on the left bottom leg. Sindy pink shoes and day-glo orange hand weights. A vintage bag from Japan in yellow with see through front and a pair of sunglasses pink with blue glitter probably new. Plus a lovely little real yoga mat for her to stretch out on. A really fun set for collectors.
Vintage dolls and vintage doll clothing.
Due to the nature of vintage items I do not accept refunds for these. Please be sure that you want to buy a vintage doll/clothing which may have been played with by children in the past, are at least 60 years old, and may show signs of this. I would describe the items I sell as for adult toy collectors rather than for children. I describe honestly the items vintage issues as best as possible to draw your attention to the condition of the item you are buying. All the clothing and dolls I sell are in good clean condition, they haven't just come out of a loft. I really care about them and it is important to me that they look their best before sending them out to you. If you want to know more about the description of the vintage items I am selling, before you commit to buy, please do feel free to ask.