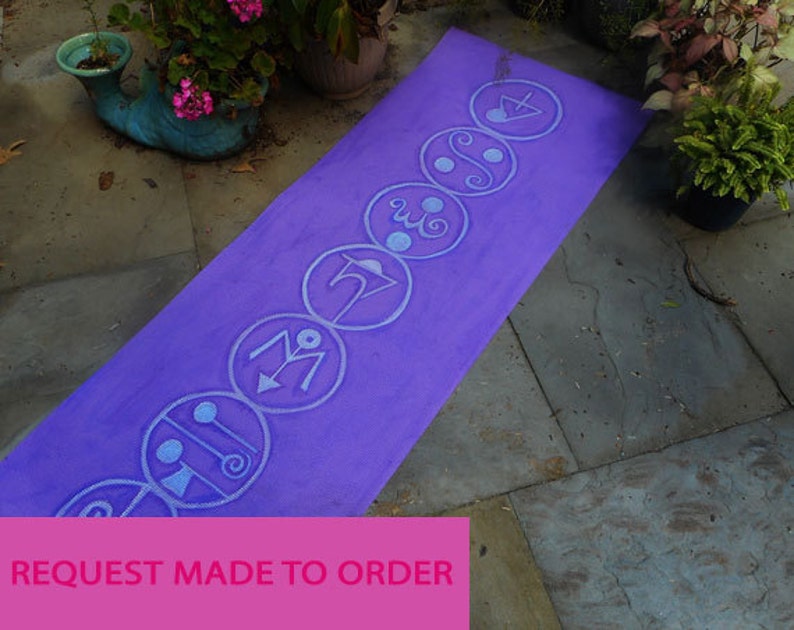 Price: $160.00USD
The designs of this yoga mat were inspired by DNA light language from a video by Tati Tati. They were just so interesting I had to incorporate them. Light language is supposed to elevate our frequencies so we may ascend more easily. These glyphs are portals to unlock each chakra. The lavender color will aid in activating the crown chakra as well.
Yoga mat size is considered large, and thick: 72 length x 24 wide x ¼ thick inches (or 187.96 x 60.96 cm). All mats are latex and heavy metal free. We hand paint our yoga mats with non-toxic acrylic paint. Your body will be touching this, so we strive for safe methods and materials. The paint does not peel off. Clean with mild detergent, such as 7th generation dishwashing detergent.
Our yoga mats are consciously created to provide and to stimulate spiritual energies of the conscious and unconscious mind, so that the body, mind and soul can heal. We have a large variety of yoga mats available for every yoga or meditational practice, but if you don't see something you can use, or have a particular need in mind, please contact us to discuss a custom order.
All products from Fox and Peacock are original and the property of @FoxandPeacockllc. No reproduction is authorized unless permission is received from Fox and Peacock.
Available for international purchase.
Disclaimer:
Fox and Peacock Yoga Mats are intended as an aid to yoga and meditation practices. We make no guaranteed claims you will reach enlightenment or nirvana by using our mats. As always, only hard work and constant practice can do that for you.