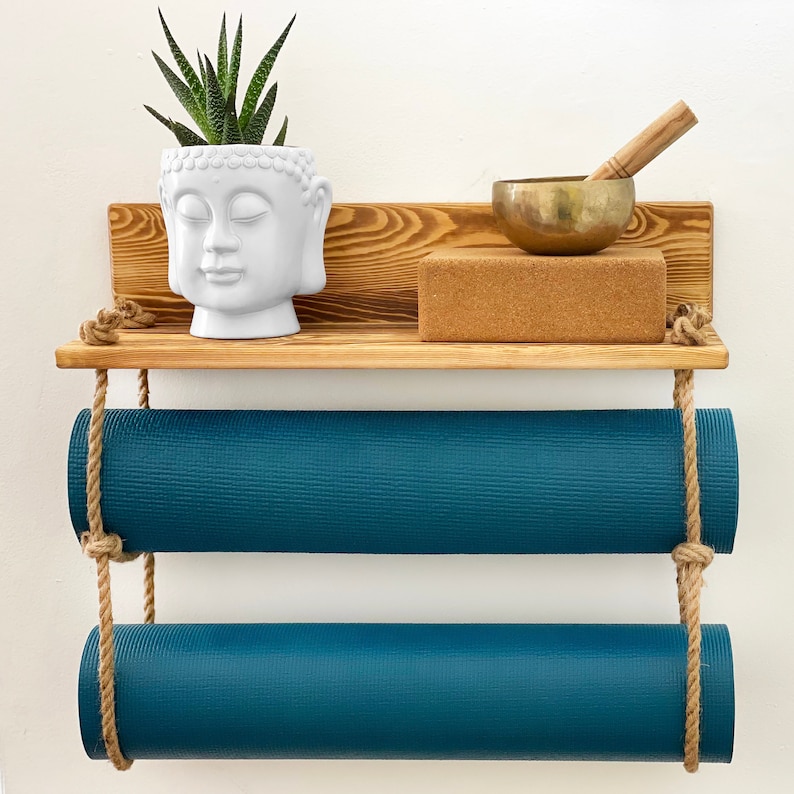 Price: $245.00ILS
Namaste and welcome to Yoga Genesis Creations!
The Yoga mat rack is beautiful and practical as a gift to Yoga enthusiasts or even purely for decoration to add to your home with unique taste! Choose from the 2 different sizes that we offer in order to store your yoga mats after a workout.
"Do good and good will come back to you" – We truly believe in spreading good Karma around and therefore we donate 5% of all our income to a non-profit that protects the environment. If you are interested in hearing more about this, feel free to reach out to our e-mail below.
Material: Made of Pine Wood and coated with a clear varnish.
Product info:
The personalized yoga mat holder is 23.6 inches (60cm) long, 4.7 inches (12cm) high, and the shelf is 7.9 inches (20 cm) deep, the shelf can support up to 11 lbs (5kg).
In addition, each unit contains:
2 types of wall anchors – to support both plaster as well as concrete walls
7 screws – 3 screws to assemble the 2 panels, 2 screws are required to hang the shelf but we've added 2 more just in case they fall out while trying to hang the shelf (I am sure that this has happened to all of us and we wanted to avoid frustration)
Personalized Message – from the entire Yoga Genesis Creations team so that you feel the good vibes the moment you open the box
Assembly instructions:
1) Use a pencil and a ruler to measure 2 points in a straight line on the wall with 11.8 inches (30 centimeters) distance between them. This will allow the shelf to be placed on the screws – as shown in section 1 of the picture
2) Assemble the two wooden boards by screwing the 3 screws into one another as shown in picture. Make sure that the boards are firm.
3) Drill the 2 holes that were measured in step 1 with a 0.236 inch (6 millimeter) diameter and stick in the hole the wall hangers as shown in picture As shown in part 1
4) Screw the 2 screws into the wall hangers, and leave 0.12 inches (0.3 CM) hanging outside so that the shelf can be hung on it
5) Hang the shelf on the 2 screws and make sure that both metal sockets are stable by applying weight on the shelf very gently
The unit is shipped in 2 pieces to ensure that the shelf arrives in the best possible form, and the rope is already attached to the shelf in order to save you time and effort in putting it together.
If you would like an explanation on how to hang the shelf on the wall, you might find these 2 Youtube videos helpful:
1) https://www.youtube.com/watch?v=oEiNUfYSvkc
2) https://www.youtube.com/watch?v=W-SbYdR9xR8
Our shelves are made out of real wood and ropes, meaning they can be chipped and scratched if handled roughly – so please handle them with care!
Shipment Policy:
At the moment, we only ship within the US and may take up to 14 working days but on average will take 1 week.
If you are interested in buying outside of the US, please contact us at YogaGenesisCreation@gmail.com and we will try to work something out.
While it is extremely uncommon, if your piece is delivered damaged or defective, DO NOT ACCEPT IT FROM THE CARRIER. If you accept a damaged shipment you may incur the return shipping charges. If in doubt, inspect the shipment while the carrier is on location and photo document issues when possible. This includes major breakage, scratches, chips, splinters, and abrasions not intended in the original product construction. If you reject the shipment due to damage, the cost of the return shipping will be covered by the carrier. Acceptance of the damaged product implies that you, the buyer, are willing to accept or repair the product at your own cost. We will repair or replace your damaged or defective furniture at our cost and/or give you a full refund as long as you have followed these return instructions. Repair or refund is at the sole discretion of Yoga Genesis Creations. We are not responsible for any damage that happens due to incorrect hanging/assembling/usage.
Refund policy:
We are not responsible for any mail damage. If you would like to make a claim we will need photos of the box and the product to YogaGenesisCreation@gmail.com.
The buyer can return the product for a full refund within 7 days of the delivered date; HOWEVER, the buyer is responsible for the return shipment fee.
If you have any questions or any problems with your order, please message us! The only time I don't respond is if I am sleeping 🙂
Thank you so much for supporting our small family business and we are happy you stopped by!