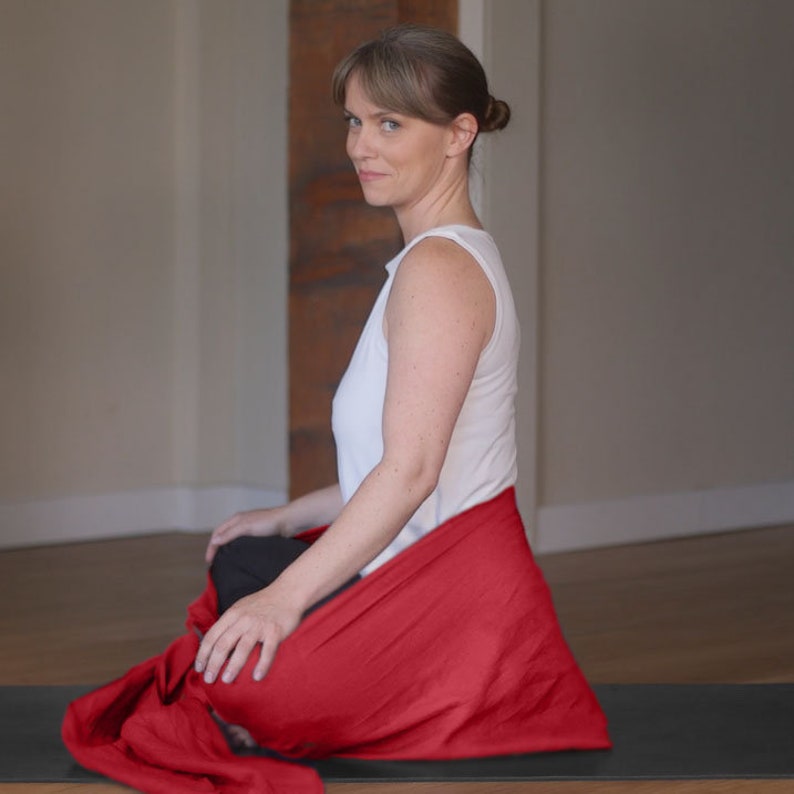 Price: $45.00USD
MEDITATION BELT | YOGA STRAP | POSTURE TRAINER | RESISTANCE EXERCISE BAND | REBOZO for DOULA
Our budget conscious STUDIO WRAPS are an alternate option to our Lotus Wrap design yet still offer the same trusted support in yoga, meditation and beyond. Studio Wraps differ from Lotus Wraps' in that they are not embroidered with a logo and do not have reinforced stitching. Both designs are patent protected.
This was designed after a Vipassana Meditation Retreat where I struggled to find a comfortable position when sitting for long periods of time. During that retreat I tied a piece of fabric around my low back and knees to ease the discomfort however it kept stretching out and becoming too loose. This was where an adjustable meditation wrap belt idea was born.
The sitting strap allows one to comfortably sit for a long period of time on the ground or floor and maintain focus. Not only does it relieve muscle soreness and lumbar pain when sitting but the art of wrapping yourself activates the Parasympathetic Nervous System (PNS) which is how our bodies regenerate and repair. People with chronic back pain, hurt legs or injured knees find great comfort in the Lotus Wrap. Quick tip: if your feet fall asleep when sitting on the floor with crossed legs simply sit on the edge of a folded blanket, foam chip block or on a bolster to elevate your torso.
As mentioned, the Studio Wraps are wonderful in meditation but did you know it is also the perfect tool for Restorative and Yin Yoga, and Stretch class? By keeping the Studio Wrap in a loop it is easy to transition between extended hold positions, and wrapping the body signals the PNS letting your body know it's safe to relax and release held muscles and tension.
When sitting in the Wrap you are ultimately retraining your posture by stabilizing the pelvis which allows the spine to return to its natural curvature. Another way to wear the Wrap for posture correction is to wrap the shoulders for just 15 minutes a day to bring a positive change in your posture. [See photo]
Designing an eco-friendly product that would help people connect within themselves and ultimately lead an empowered life is amazing motivation. I manufacture Studio Wraps locally in Vancouver, Canada to reduce our carbon footprint and maintain quality control. We use high thread count, natural fabrics and pull test each ring batch to 250lbs so you don't have to worry about the ring breaking in a posture. Our packaging is made from recycled paper and compostable plastics ~ happy people, happy planet.
These attributes are what sets our Wraps apart from other portable meditation seats and posture trainers. Studio Wraps are a quality, earth conscious product which brings comfort to your meditation, yoga and posture. It is also a great tension band for fitness training and is very lightweight which makes it perfect for travelling. It holds your legs comfortably when sitting on long flights or trips and wears as an infinity scarf so no need to pack it in your luggage. Simply wear it through the gate!
BONUS USAGE ~ our doula & midwife friends love using the Wraps as a rebozo scarf to support pregnant and laboring mamas! The favored Wrap poses to support mum & baby are: cow pose, 'shake the apple tree' and an absolute MUST in 'closing of the bones' ceremony.
Available Sizes:
• Regular 8' foot length (96" inches)
• XL 9.5' foot length (114" inches) for those blessed with long limbs or a curvy figure.
Sizing: with a flexible measuring tape or 8' yoga strap, measure the outside diameter of your body when seated in Staff Pose*, or weave the measuring devise as would be worn in Shoulder Wrap*. If 8' is too short the 114" Lotus Wrap is the one for you!
MORE Lotus Wrap designs on our SHOP! https://www.etsy.com/ca/shop/EarthtoEthers
Eco-friendly Lotus Wraps are made with care and love in Canada.
View full length instructional videos at https://earthtoethers.com/pages/instructional-videos
Fabric: 100% TENCEL™ Lyocell
Weight: 96" – 222 grams
114" – 258 grams
• Eco-friendly Lotus Wraps are made with care and love in Canada
• Fibers are extracted from sustainably grown wood using a unique closed loop system which recovers and reuses the solvents used
• Minimal environmental impact of production
• Non-toxic aluminum, scratch resistant, anti-slip buckle
• High tenacity profile, efficient moisture management and gentleness to skin
• Machine wash
• Durable, quick-dry, easy to iron