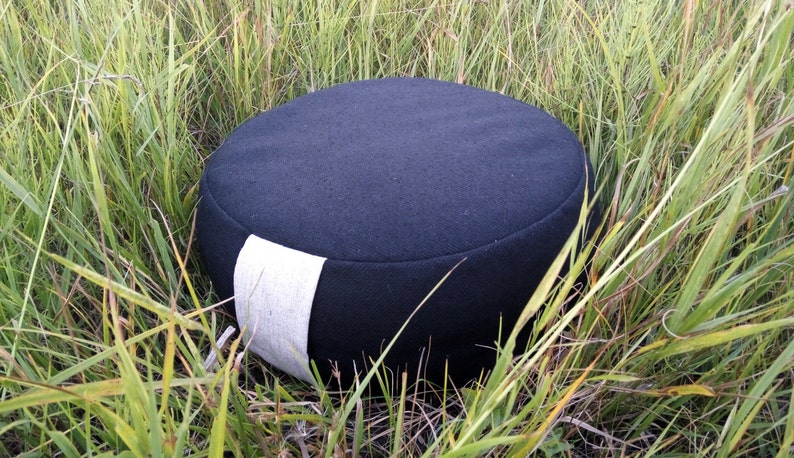 Price: $39.00USD
Take care of your health and loved ones today!
Organic Zafu / Floor Cushion
can be used for meditation practices, and for sitting on the floor, tea ceremonies, outdoor games or just as a decor element. Filled certified eco-frendly Buckwheat hulls in linen fabric with hemp handle.
Seats made exclusively from eco-materials of superior quality: filler – buckwheat husk cover made of hemp. These materials have anti-allergenic effect.
Through breathing properties of ECO seat is soaring, and buckwheat husk pyramidal shape allows easy micro massage effect, thus improving blood circulation in the pelvic organs.
Meditation cushions helping (by raising the pelvis) to remove the load of the back and the lumbar muscles, making it easy to keep the body in proper position during the entire practice (meditation, pranayama, contemplation) as long as possible.
Due to the filler (buckwheat husk) cushion perfectly repeats to your body shape and maintains the optimum temperature.
Product dimensions:
Height – 4.7″ in (12 cm)
Diameter – 14″ in ( 35 cm)
Weight: 5.4 LB (2450 gr)
Cloth – Linen, Hemp
Filler – organic Buckwheat hulls
WE SEW ANY SIZE!
Also you can buy:
– only cover without filler buckwheat husk (it will be cheaper for item and shipping);
– hemp multi chamber zabuton with or without filler buckwheat husk.
Сontact me if you have any questions – I would be glad to answer them!
Please see our other products with buckwheat husks to your health:
https://www.etsy.com/shop/HempOrganicLife?ref=listing-shop2-all-items-count§ion_id=18111641
Be healthy,
Alina